Perhaps my favorite story this year is the new refrigerator. Our little mobile home came with a shitbox fridge. Not much bigger than something you'd find in a studio apartment, but it worked for Amy and I. There was no credit for NOT taking it with the house. Simple and surprisingly noisy, we managed just fine. After the reconciliation but before the fancy new 5th wheel showed up the kids decided to move into the house with us. The cabover camper was just too small. During beginning discussions, a larger fridge was brought up to ease the pain a bit. The kids said they'd kick in $1000 toward it so I set the son in law loose to research and find something nice, and counter depth to fit the weird size cabinets that come in modular homes. I'm a big Star Wars fan so immediately fell in love with our new "Stormtrooper". Home Depot delivered pretty fast, the same day the kids completed the move into the house.
Thank you for visiting, don't forget to subscribe!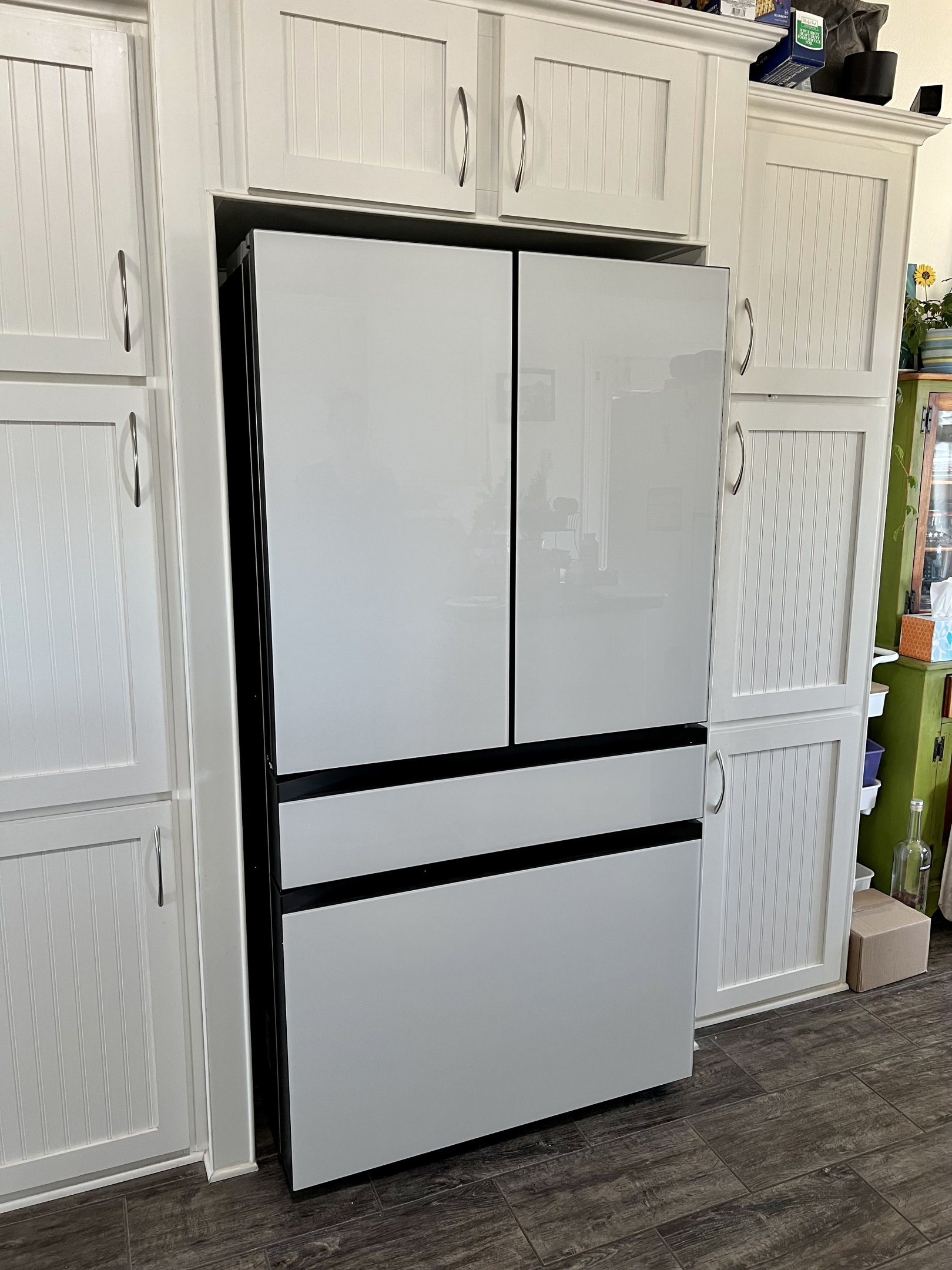 Incredibly quiet and roomy, all was well in my world now.
3 am rolls around and I hear and feel a humming that's out of place. Is this new fridge taking a shit the first day?
Nope, backup generator kicks on when batteries hit a preset depth of discharge. In our case, it's set a 20% (lithium batteries safely discharge to 10%). OR it kicks on every 30 days to warm up and do self-diagnostics. That must be it, back to sleep I go.
Our system is built so well, so robust and so dummy proof that I give it zero thought. By time I woke up I had already forgotten about the genie cycling.
4 am the following morning, genies back on. It was a warm day, and we ran AC's till about 9pm but that's never been a problem before. We are prepping for two back-to-back beef deliveries which is a ton of work so my mind is elsewhere. Leaving the butcher, headed for Havasu it hits me. I only told the kids to find something that fits the cabinets correctly, didn't even think about how efficient the model was.
It would be my luck that they picked the most inefficient model ever made. Remember, our overall inefficiency with everything is impressive at this point so I just shrugged my shoulders.
The system is expandable by two more batteries- I guess it's time if we're this power hungry. A quick call to my solar guy, a third battery and all the parts to make it work are ready for pick up the next day.
I let Chicken Dan know what was going on and asked to get on his schedule to have this installed. As luck would have it, he's got an opening almost immediately. This should go fast as I had all the battery cables pre-built by Wind and Sun. Add new gear and get the system programmed and he should be good.
I need to back up a bit…
Living on solar power only requires being good stewards of power usage. I don't ever want to hear the generator inhaling my expensive propane. My new job is teaching the toddler to turn things off when not in use. Light switches, her tablet, her toys- whatever. Many kid toys today have illuminated power buttons making it easy to find. Maybe the green initiative is getting something right?
Back to the story…
Ol' Chicken Dan shows up and drags his tools into the house and starts setting up. We do our best to leave him alone because his hourly rate doesn't stop when a conversation starts up. He's got great stories but at $125 per hour- I can wait to hear them.
I remember sitting at the table working up a feed order when he sticks his head out of the bedroom door…
"Hey, who turned off one of your batteries?'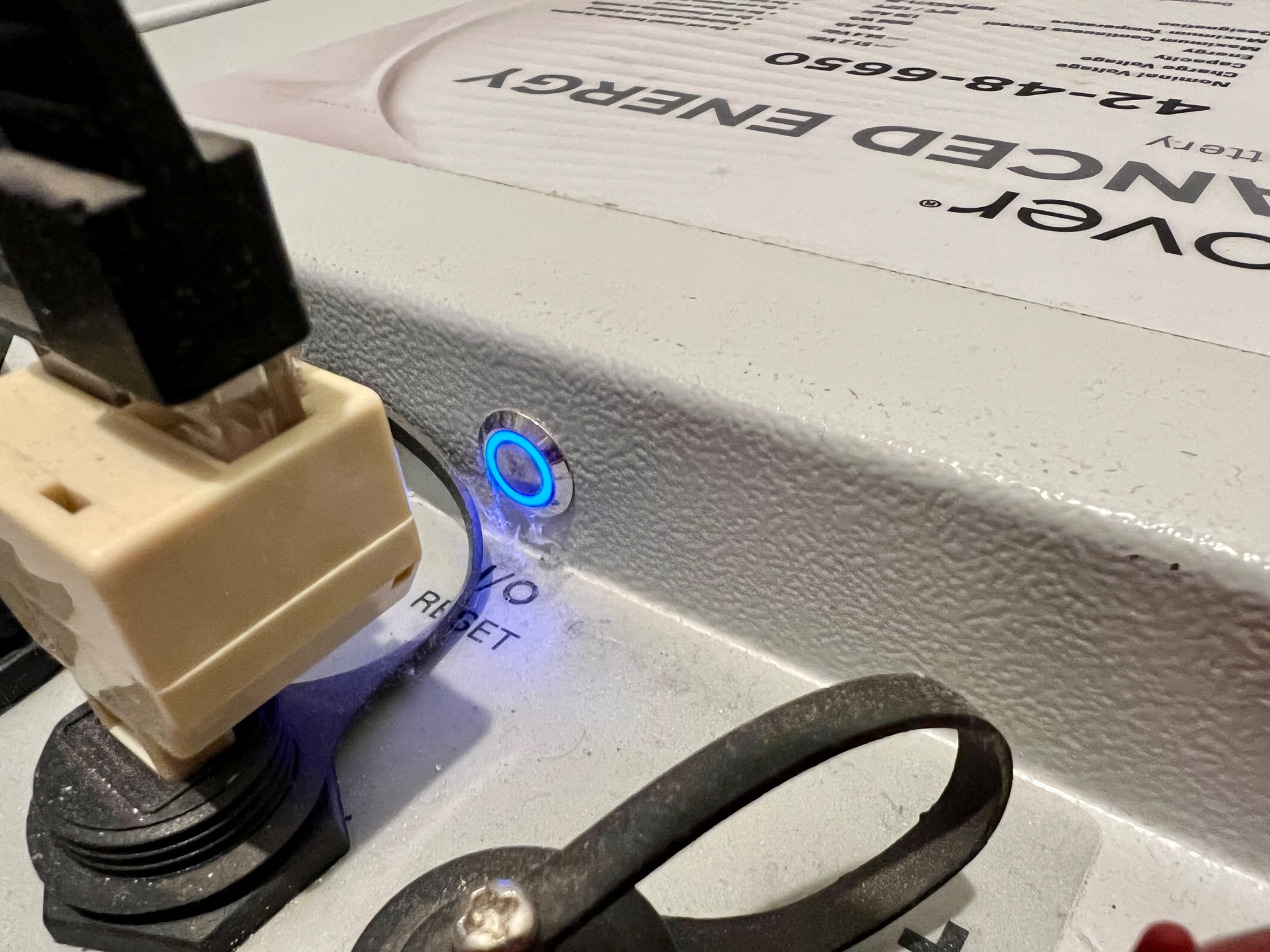 All I could do is laugh. My diligence is paying off in spades. Best guess is the toddler sees this button when the closet door was cracked open and did as she was taught.
The 2nd battery faces the opposite direction and is not easily visible. With the kids sleeping in that room at a time that I would think to even check things out because of a running genie- it's all just the perfect recipe for things to get missed. We'd been running the house on just one battery. The new gear was already paid for with money I didn't have to spare. I already drove 200 miles round trip to pick up because I couldn't afford the shipping. The custom length battery cables certainly can't be returned and I'm already $125 into Dan just for walking in the front door. Stay the course, Captain. It was a $7000 oversight on my part.
Amy thinks I'm pretty neat at this point.
Add insult to injury, Discover changed the packaging on the batteries. Same exact thing but a completely different look. My OCD is on the ropes, I won't even open the closet anymore.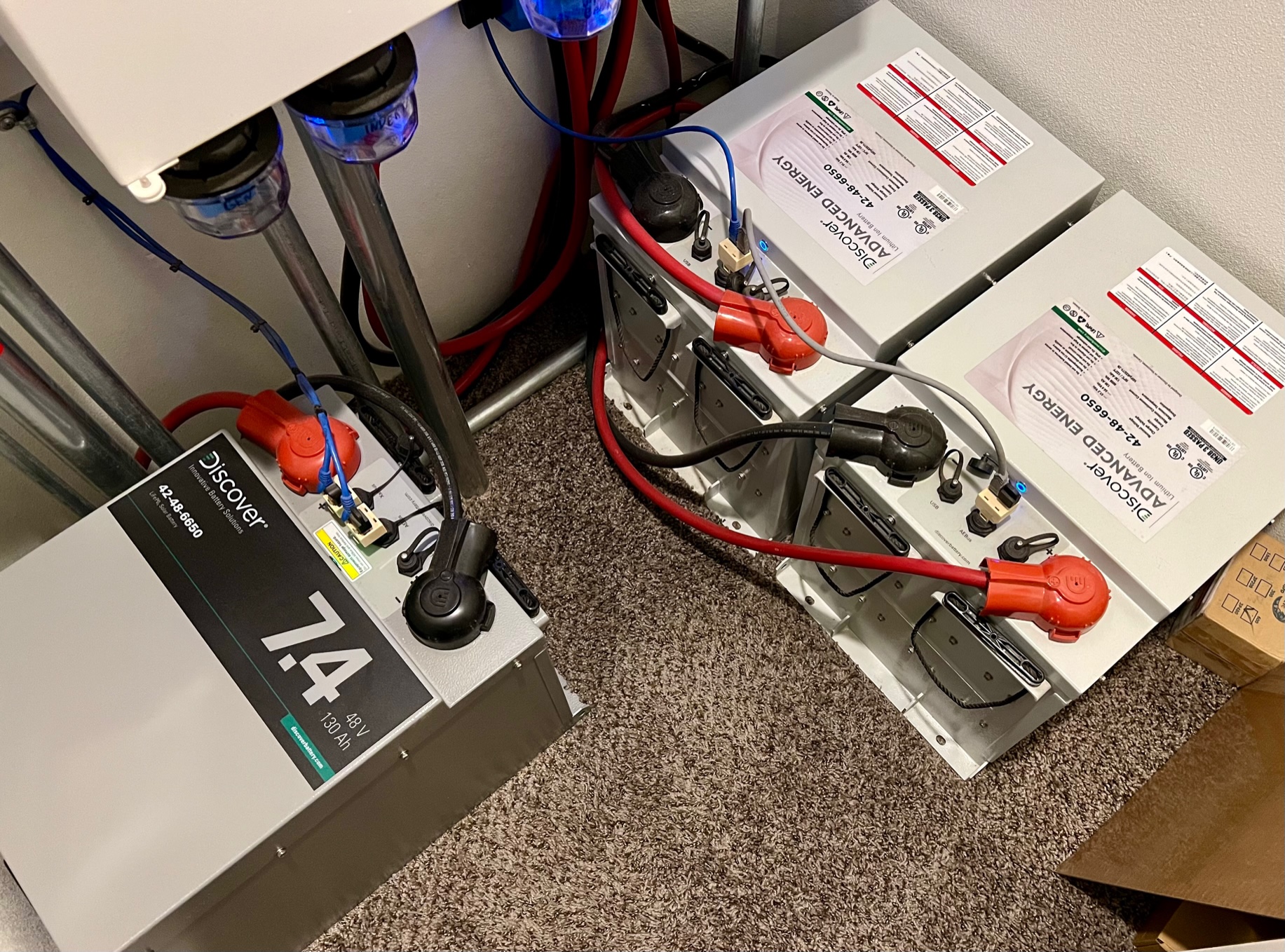 As usual, The Chicken did an outstanding job with the upgrade. I could hear him chuckling in the closet for the entire install.
Pretty sure he wasn't fed lunch that day on purpose.
So now we have close to 1600-amp hours of storage on a house that rarely used the backup genie with 1040-amp hours. I think we're good on power.