The next big undertaking will be a 8+ acre pasture that will likely take 2 years to complete. Lots of trees to clear, dirt work and compost to make. Once finished, we can scale up production while seeing a savings on feed costs (one of the biggest hurdles faced when trying to be profitable). We are adding another 40% to the poultry grass inside the large fence and redesigning the garden for spring to make better use of the space now that we know how strong the demand is for good veggies. We have run through our savings getting to this point and are now funding projects and improvements from the farm business revenues. I guess you could say we are truly, "Living off the Land" now.
Thank you for visiting, don't forget to subscribe!
Here is the outline for the large pasture project coming up.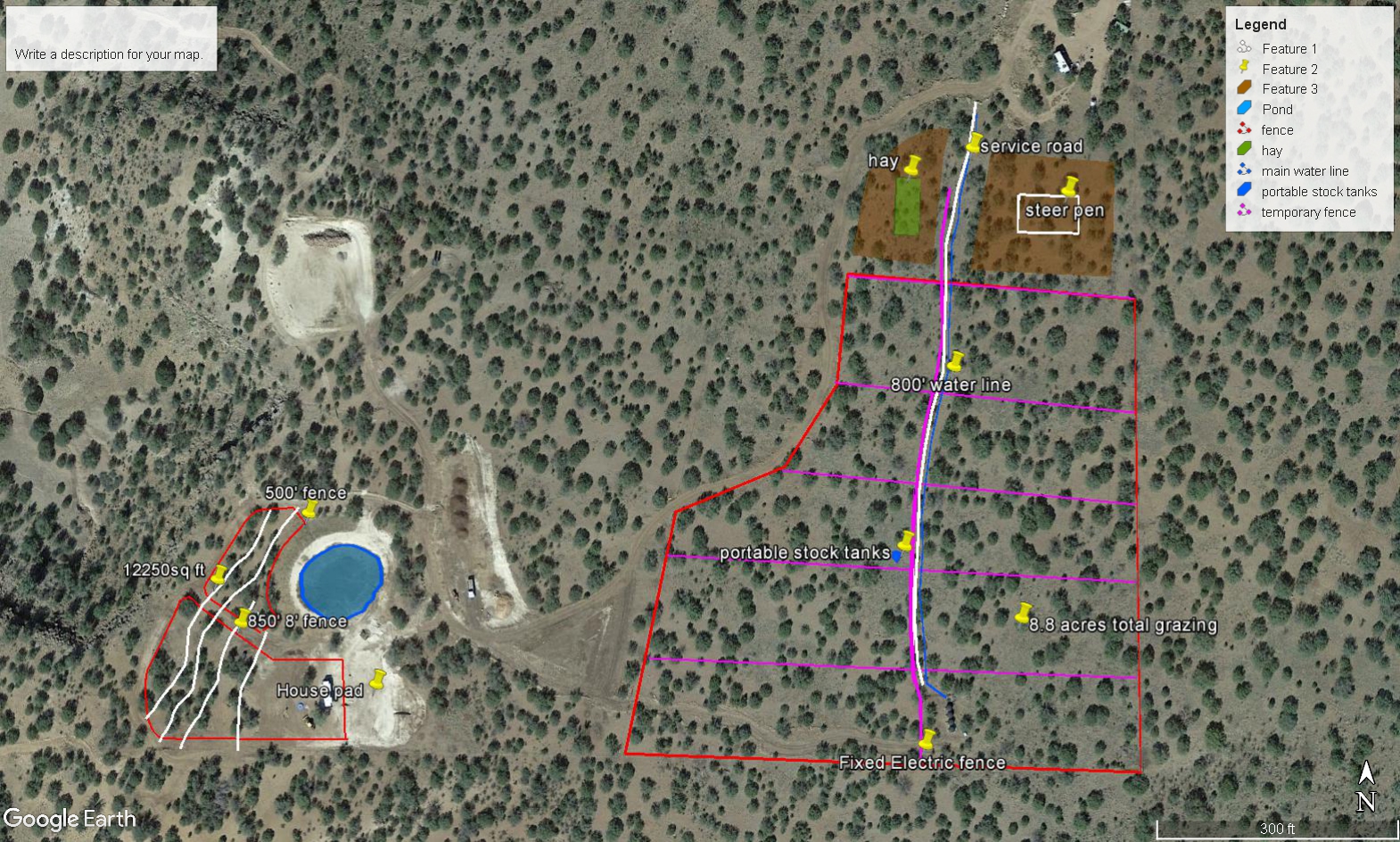 We had saved enough money to pay cash for our little house OR start a farm business but not both. The farm business won and in less than two years is successful enough to pay our bills and grow a little with a few bucks left over each month. Not the kind of extra money that it takes to build a house without a mortgage though. That's my big struggle.
Being debt free has allowed us to accomplish what we have so far. Do I stay the course and try and pick away at the house for the next few years (or longer)? Or do I strap on a small mortgage to build the house. Land is paid for, plans complete with a building permit good for another year, water and septic already done so its just building the house and solar system to power it.
Our 5th wheel has given us zero problems and is plenty comfortable except for cooking/canning/preserving food. Amy really could use a kitchen but that doesn't stop her.
It's been up for discussion a few times now but we're both so financially conservative anymore that its hard to imagine any kind of payments. I also wouldn't know where to start looking for a construction loan for our situation or if it's even possible. Last time we bought a house we simply wrote a check for $60,000 for a down, signed some papers and the realtor handed us keys. I don't think the mortgage end of it took more than 2 hours total. From what I hear, things aren't that way anymore.
We have designed 3 different outdoor kitchens, all very usable with one having a framework that could be re-purposed later as a hay shed or equipment storage. We learned a few things this summer about outdoor food prep and having large gardens and 13 bee hives. Bees and bugs are content with gardens and pasture grasses/blooms and generally leave us alone. UNTIL you start cutting/cleaning/cooking. They had to check everything out from start to finish. To be sanitary and efficient we decided a enclosed kitchen would be needed.
It's no surprise that limited time and money now play a part in our decisions. We were and still are very comfortable with that reality, we simply spend more time thinking things through and try to make solid decisions. I'll explain a bit more.
Most things you've seen us accomplish happened before running a farm business. The daily chores just to sustain that are easily half a day or more. When firewood delivery season hits we go from dark to dark and then some. Ever stack 2.5 cords of wood onto a trailer using headlights and flashlights? The money is too good to ignore since we have plenty of projects yet to fund. When it slows down we'll play catch up on other stuff for several weeks.
Monday is a full day getting orders ready for delivery. Eggs, honey, ground beef, veggies (in season), bone broth packages, "Amy's Extras" like her homemade pickles and applesauce's/apple butters- scheduling etc. Tuesday is Havasu delivery with an average of 40 stops. Again, dark to dark. This was all by design, it's exactly where we wanted to be.
We also make time for us. Trip to Chino Valley to drop off or pick up from our butcher? Find a deal on Air BNB and make it a overnight and hit Whiskey Row in Prescott for a few hours of fun and trouble. Big beef and pork delivery? Find a mid-week deal at a nice hotel with a big tub and bitchin pool/spa and recharge a bit.
One thing I've learned through the years is that you need at least 1 day per week to work "ON" the business instead of "IN" the business. So we'll take a day to catch up on paperwork, read articles/blogs, plan or research something we've talked about.
The long winded point I'm getting at is time is now at a premium. I have a good idea what it takes time wise when considering a big project up here. (1 full day just to load up and drive to town for materials btw) I'm not so quick to jump in head first anymore. After redesigning and re-doing enough temporary things I can see the value in making a plan and sticking with it as finding the time to re-do it the way we really want later is getting harder and harder.
Do we focus on getting the house started and finished sooner than later or start it and pick away at it for a few years as time and money allows? Obviously, we lean toward the latter as having a mortgage payment doesn't excite us. Do we build something temporary to make life a little easier short term (i.e. kitchen area) knowing we are taking time and money away from the end goal of finishing the house?
For the immediate future we will keep on keepin' on just like this. I'm sure you've figured out by now that we are planners so we'll keep chipping away at this until something makes sense.
The best plan we've come up with yet:
If you remember back, our house plans include a matching 14'x14′ building on its own pad just about the house. This was designed to house all solar components and batteries along with booster pump and water softener etc. Basically utility/mechanicals building. Per code there needs to be a wall separating batteries from all electronics so we were just splitting in half with a wall down the center.
Revised plan:
Build the 14'x14′ building, leave the wall out as its easy enough to add later and trim out as kitchen and storage. Piece together a reasonable solar system for lighting and ignition for stove and on demand hot water heater and build battery storage outside the building to stay in code. This gets us a portion of the house project done without having to re-do too much later. Not nearly as inexpensive as a lean-to or temporary outdoor kitchen but wastes the least amount of resources.