We are so used to this adventure twisting and turning, we'd probably have heart attacks if even one thing went as planned.
Thank you for visiting, don't forget to subscribe!
The plan was to be completely moved out of Havasu by April 2017 and into the new house. Lofty goal indeed. The more we pushed, the more it pushed back. The delays I previously spoke of regarding house plans and permits set us back several months.
After licking our wounds from that debacle we started calling in more contractors as we were running short on time and realistically could do less and less ourselves if we wanted to be in by April. Trying to get people interested in driving the 80 mile round trip was the first hurdle. The fact that there is so much building going on right now was the second. Zero deals to be had if we wanted to push it. Offering $100 bills didn't even get people excited. We only have so much money to work with but more importantly, we desperately wanted to experience building this house ourselves. Together.
The farm business was also at a tipping point. Demand was so high for what we were producing on a part time basis that we found ourselves turning away more customers than we were delivering to on a weekly basis. We had saved enough money to build our little home without a mortgage or to build our dream farm- but not both. I knew which way I was leaning but left the final decision up to Amy. Without hesitation, she chose to invest our savings into the farm we had been dreaming of and we agreed that getting here full time was our new #1 priority.
Our solution was to upgrade the old 5th wheel so we could be here full time and get the dream of building the house ourselves back on track. After 3 years of part time living in the beat down tin can of a 5th wheel, we had a pretty good idea of what we wanted in a full time rig. It took a bit but we found a clean, 10 year old 5th wheel in very nice shape. It had the floorplan and quality construction that we wanted so a deal was made and the work began.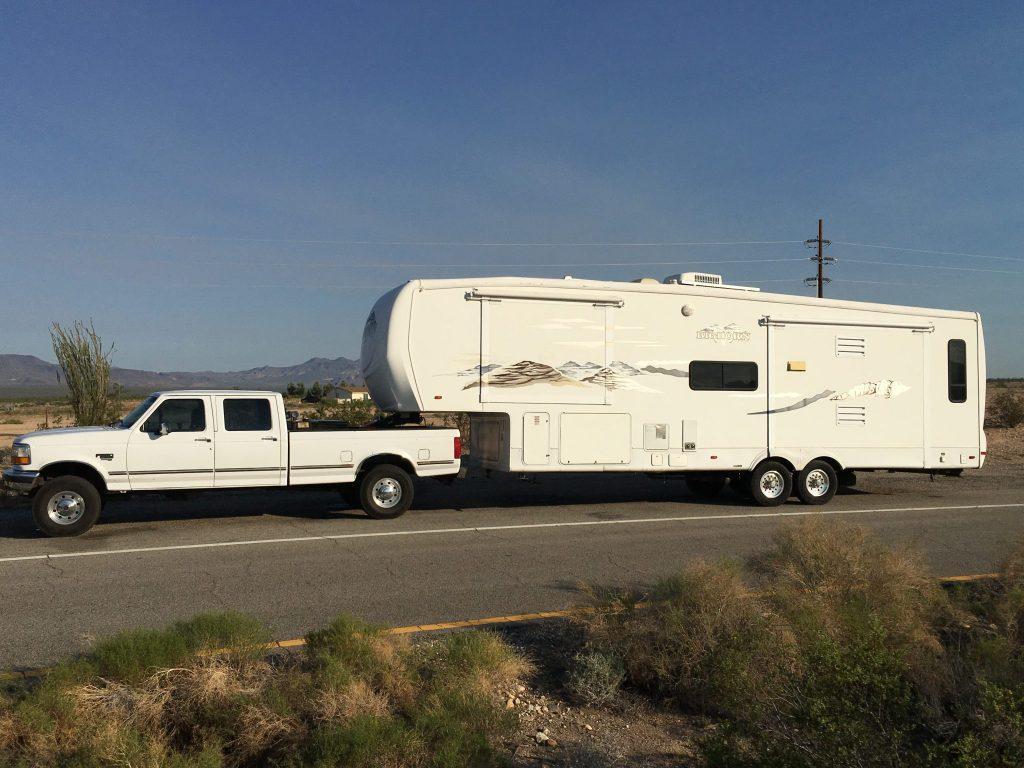 First stop was to Jesse at Adrenaline Detail for a buff and good coat of wax to help protect our new home from the elements.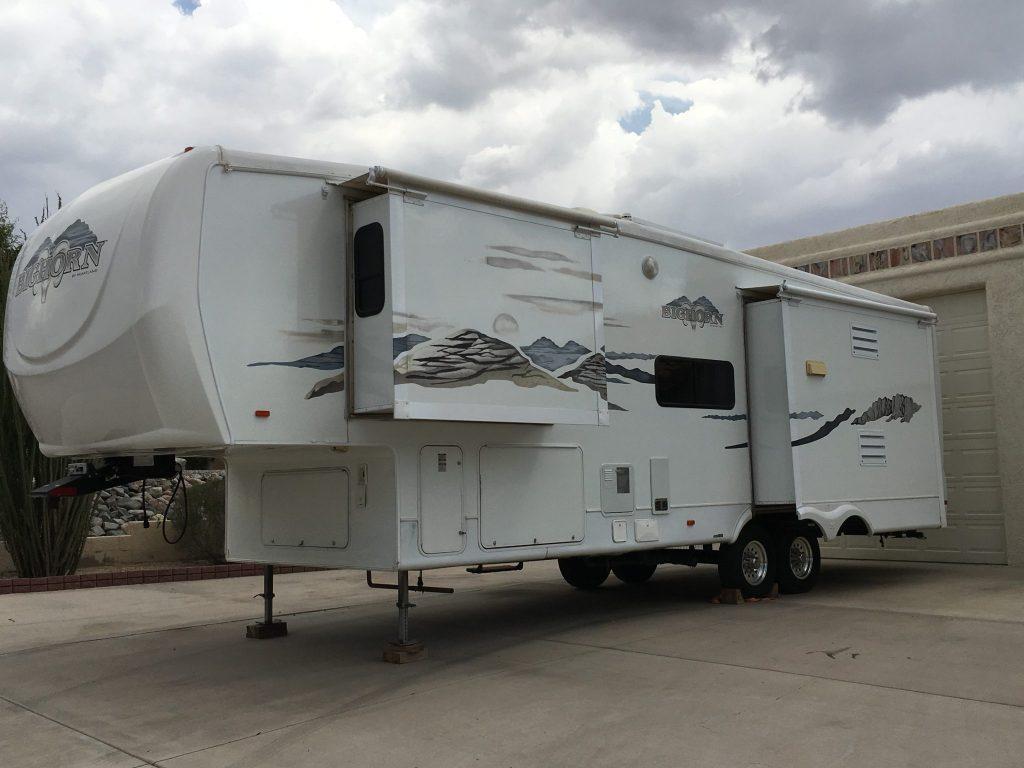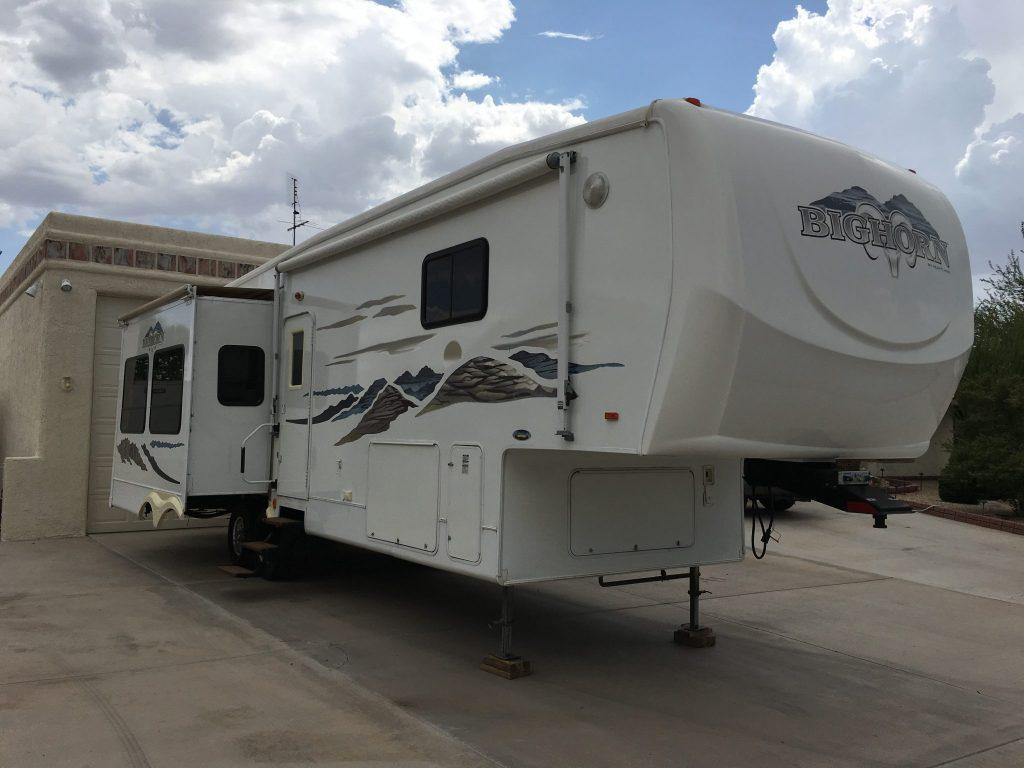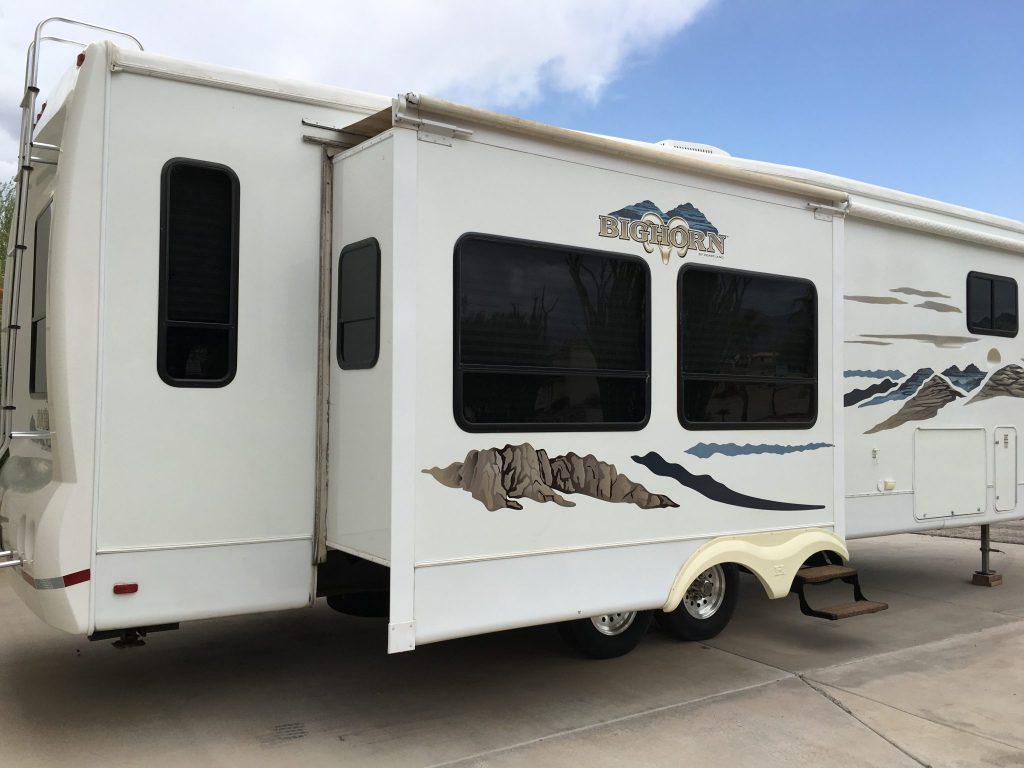 We took care of some minor mechanical issues such as adjusting brakes and servicing the onboard propane powered generator before getting to work on the interior. First up was changing the layout to fit our full time living. This is a "before" picture I found on the internet as I didn't get one before we started making changes. The odd size and uncomfortable sleeper sofa was the first thing to go.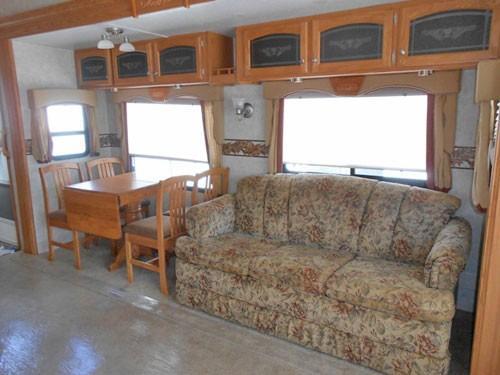 We found a couple of nice recliners at Ashley Furniture that would easily disassemble enough to fit through the small RV entry door.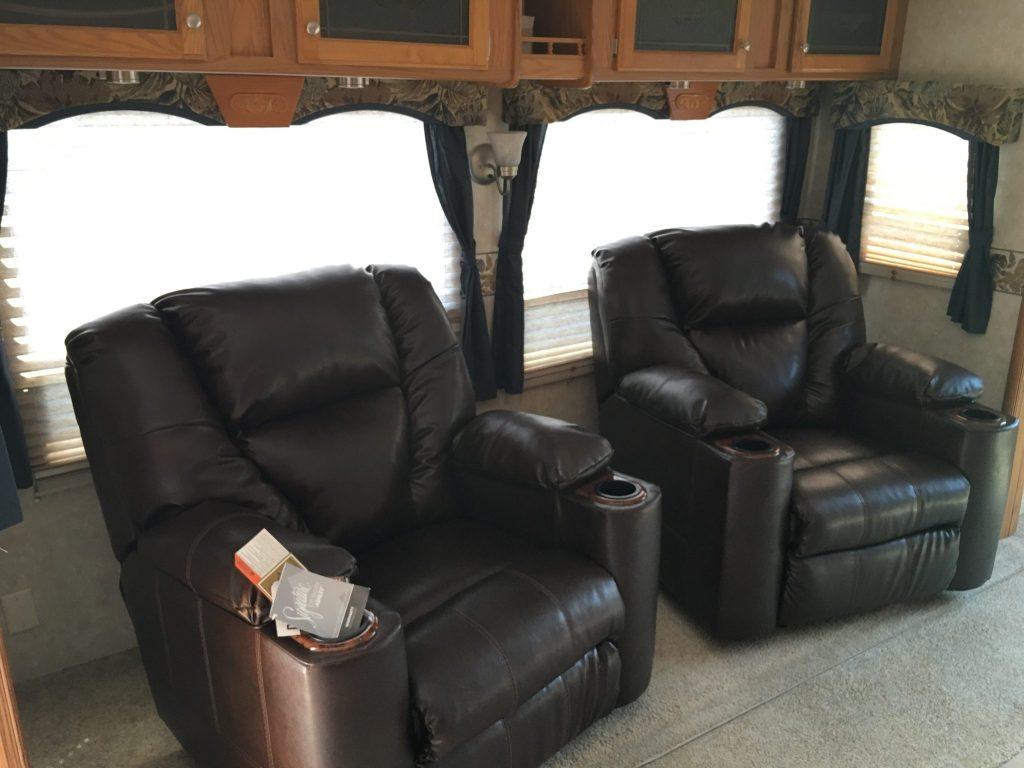 We relocated the kitchen table to the rear of the 5th wheel so we'd have a spacious seating area with plenty of large windows.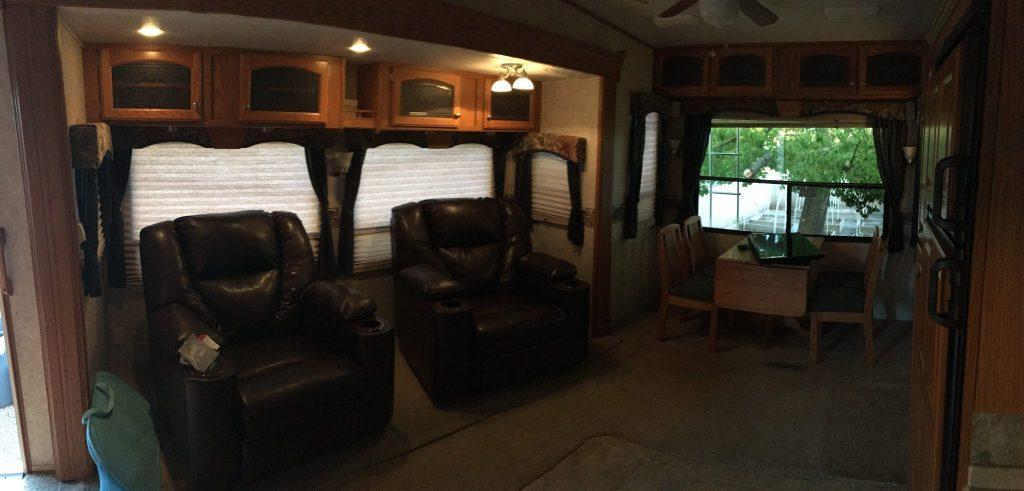 We haven't had television service for several years but do enjoy a good movie on a cold day. Older TV's are very inefficient compared to modern LED TV's. Since we will be 100% solar powered it is important to cut usage where you can to keep the size of your battery bank reasonable. We found one that fit the existing hole very well but needed to fabricate a custom mount so it was flush with the wall. We had a cabinet shop make us a piece of trim to finish the installation off.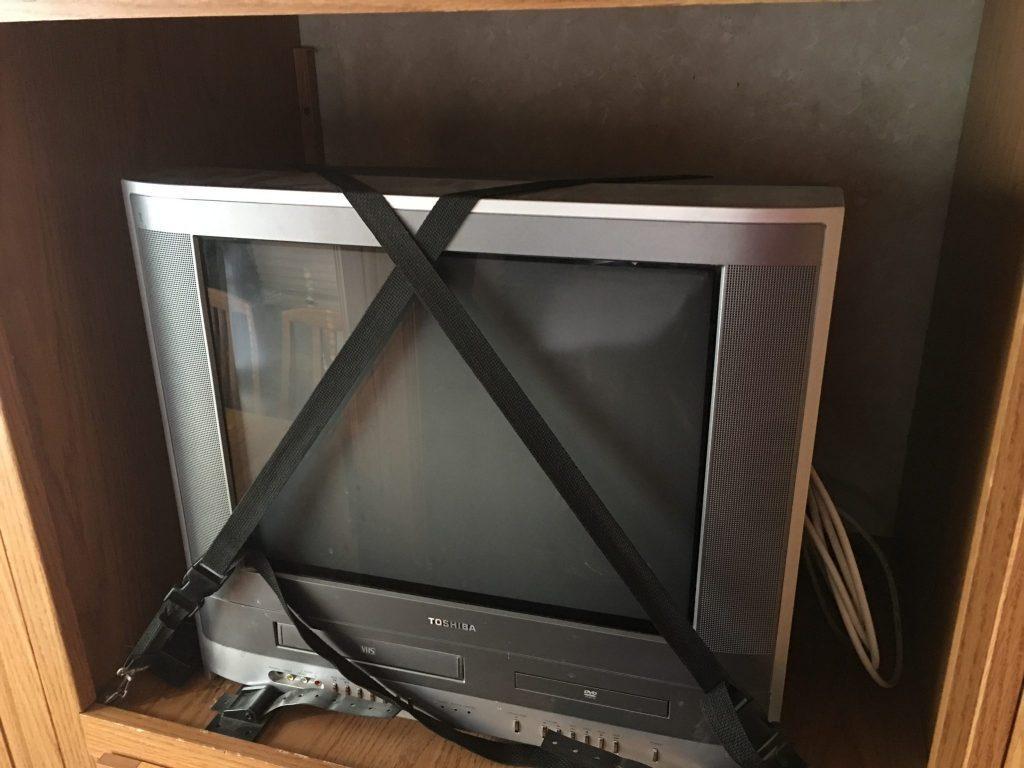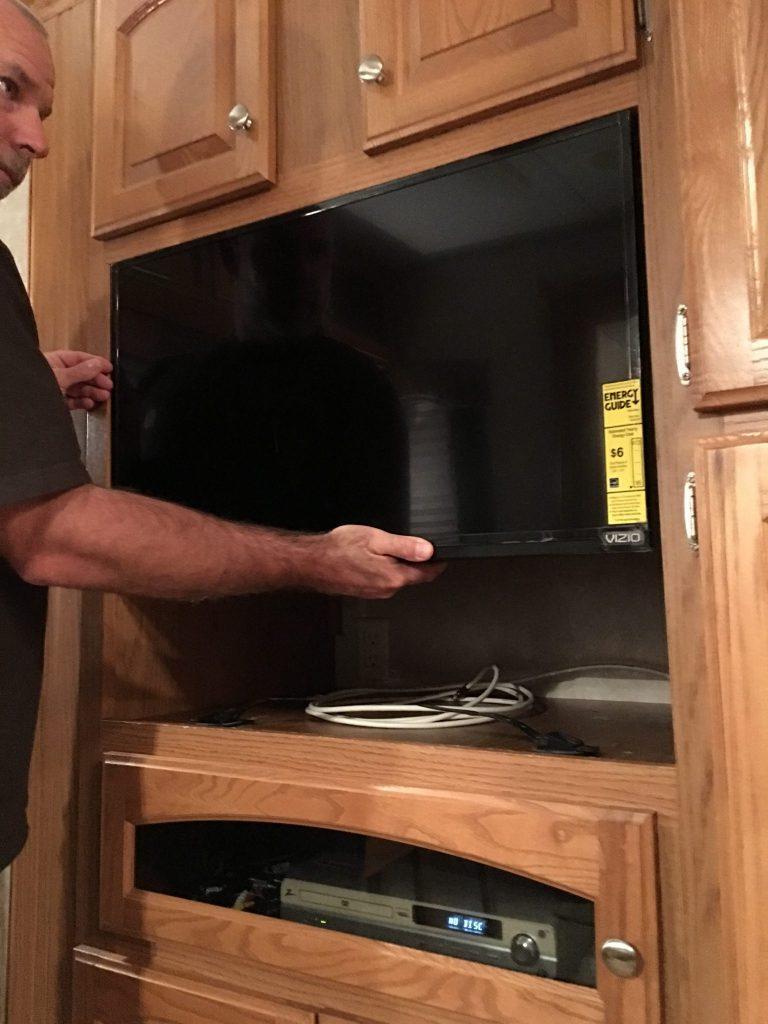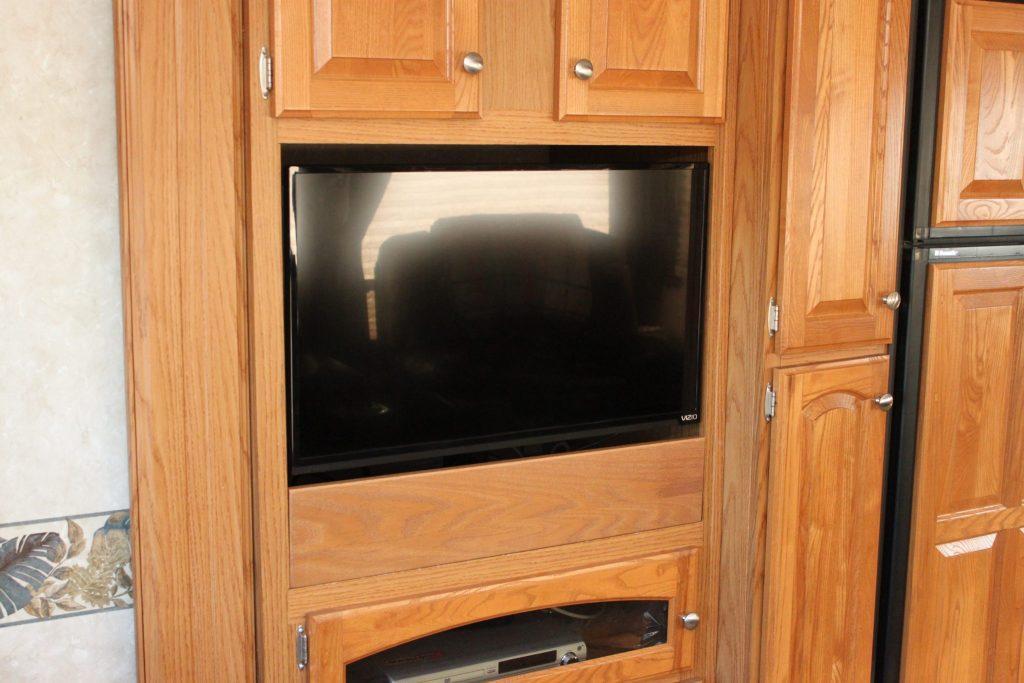 Next up was replacing all the lightbulbs with super efficient LED bulbs. The power consumption difference is staggering.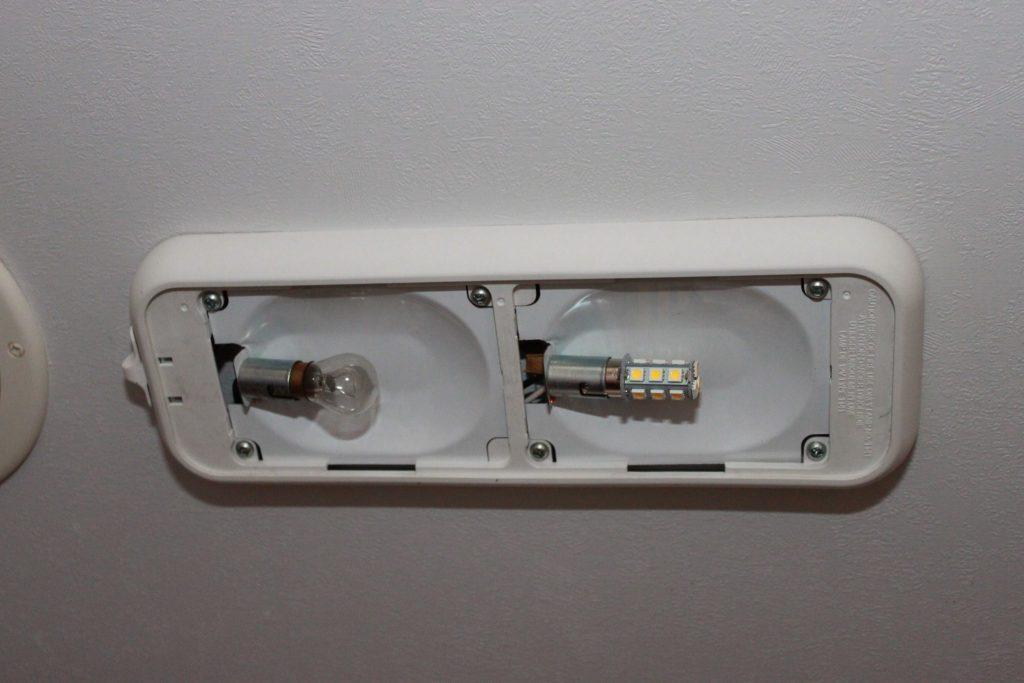 We would be taking 2 indoor cats with us. I had no interest in smelling cat boxes inside our new, very tiny home. The storage compartment was the perfect size for two boxes but we needed a way for the cats to get there. The first thing we did was modify the intake for the furnace to move it back enough for a "kitty tunnel".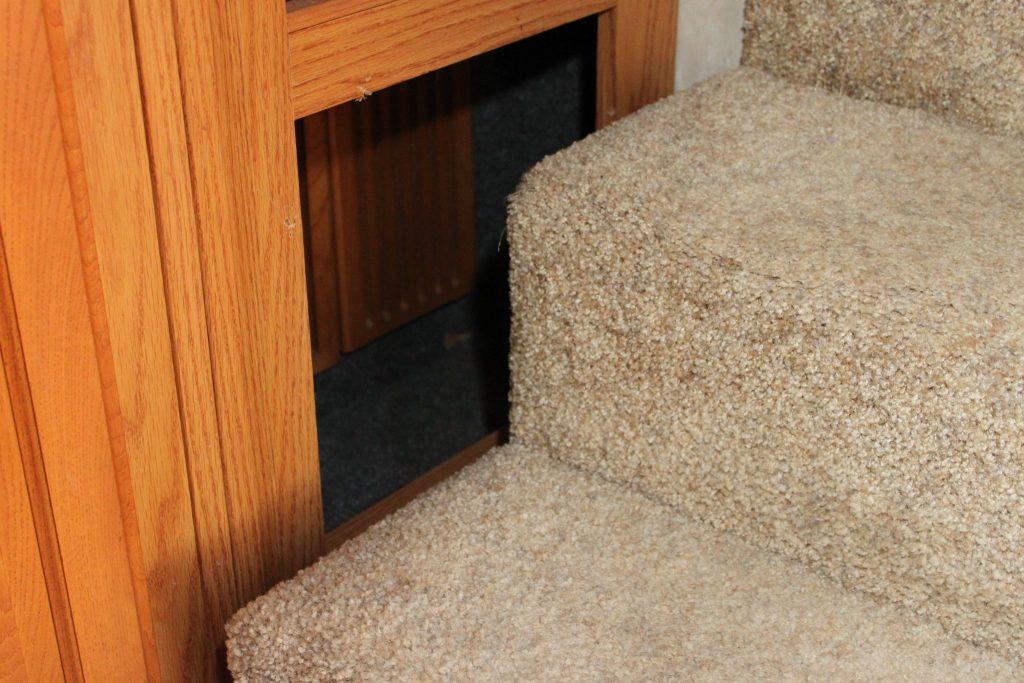 Then we modified the walls in storage areas to give the cats plenty of room to get where they needed to be. We trimmed everything out with carpet that matched as best we could.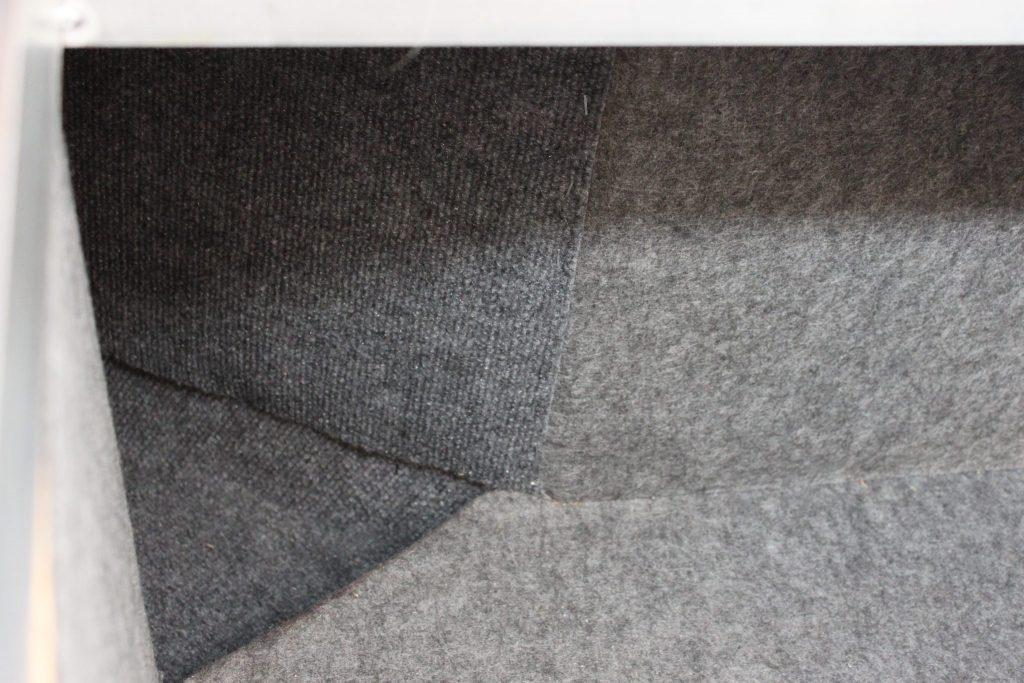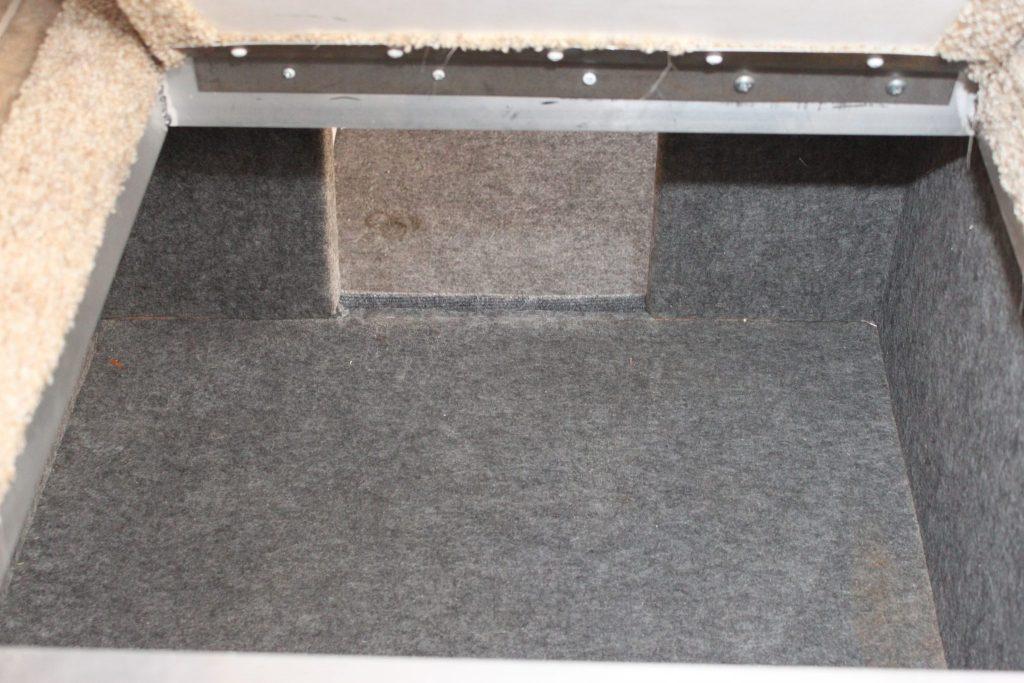 A simple wood partition separates the cat area from future solar components.