One thing we've fought for years is the extreme weather fluctuations of the high desert. 40- and 50-degree swings are not uncommon, year-round. Trying to grow anything in this environment, while entirely possible, is a challenge.
Thank you for visiting, don't forget to subscribe!
So, as usual, the research began, and what follows is the result.
We started planning the high tunnel project several years ago. To have some control over the weather surrounding veggies means the ability to grow year-round, or damn close to it. This also means a break for Amy, since she spends late August through mid-October in a mad rush, canning, or freezing veggies for the winter. With extended growing seasons, we can keep eating fresh stuff and selling the surplus to our farm customers to stabilize our income a bit.
It's a 30'x72' Zimmerman's high tunnel with 6' roll down sides for cross ventilation. It is 16' tall with low Perlin ceilings for tying off plants for vertical growth. The entry doors are 10'x10' for more ventilation as well.
Our next challenge is re-learning how to grow food in a more controlled environment. I'm looking forward to this adventure!
After several weeks of build time, it shows up by truck. Shipping weight was right at 7000lbs.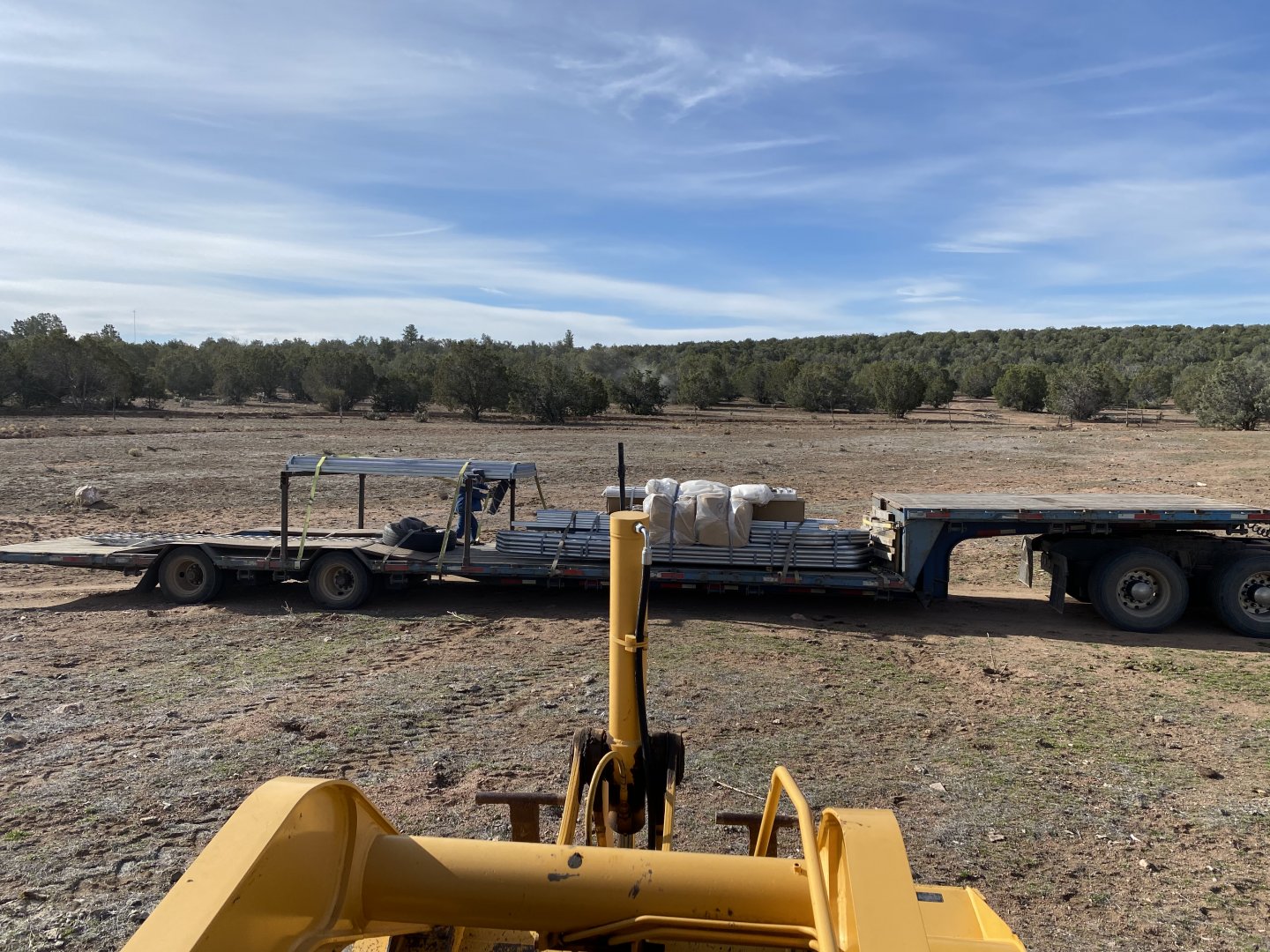 We dropped it on the pad we built for the high tunnel a few years ago.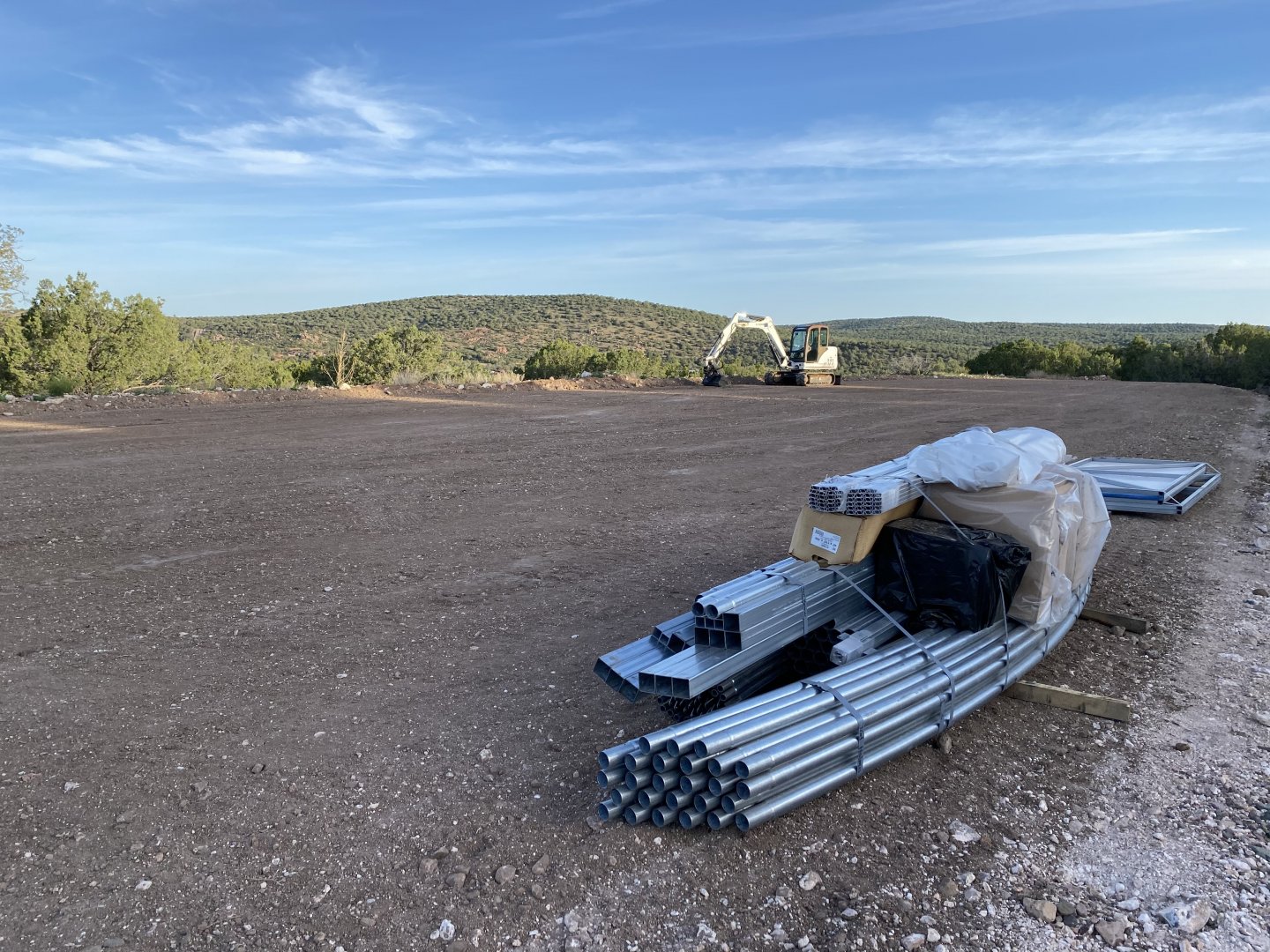 We laid it all out and started building trusses.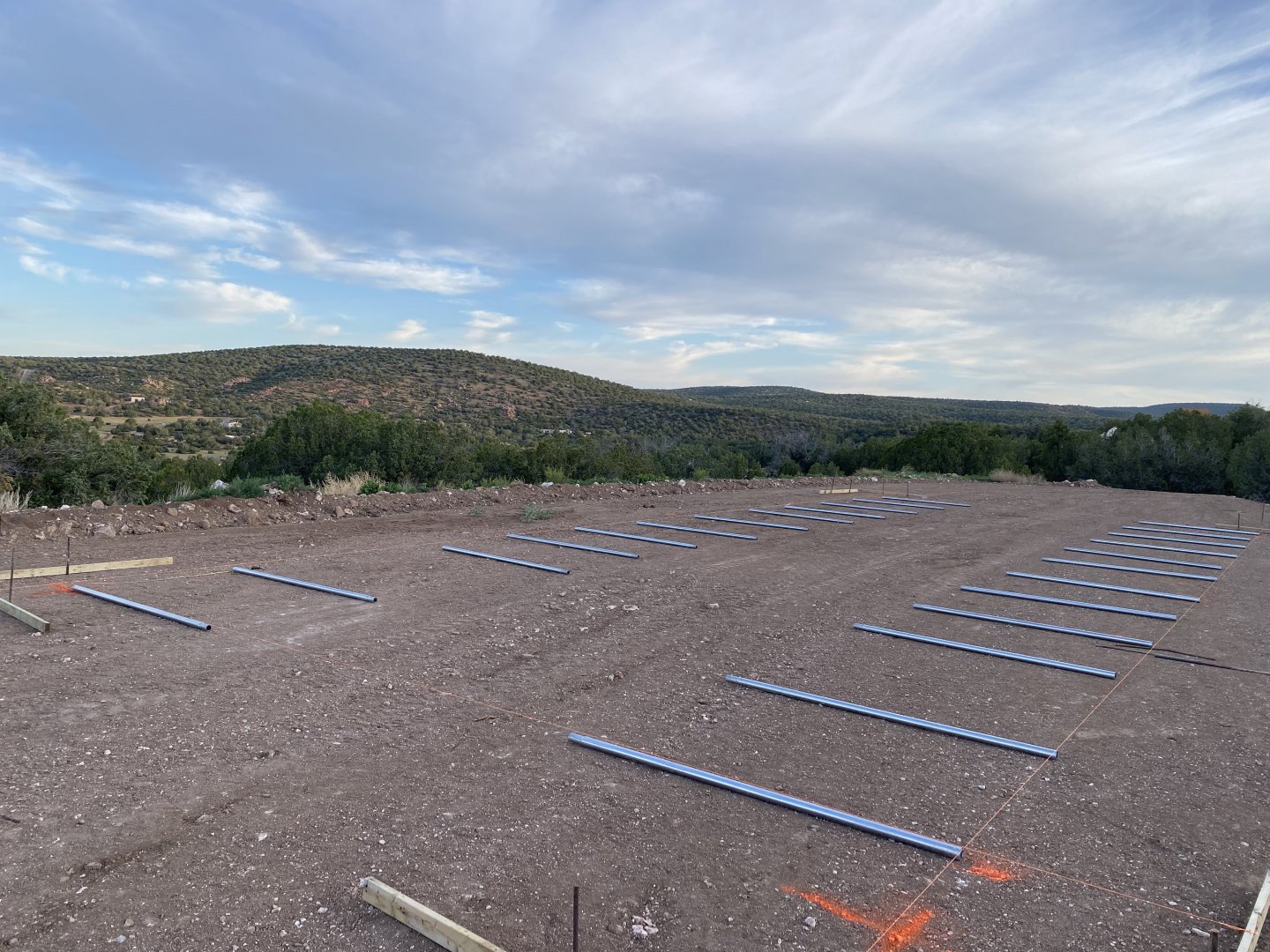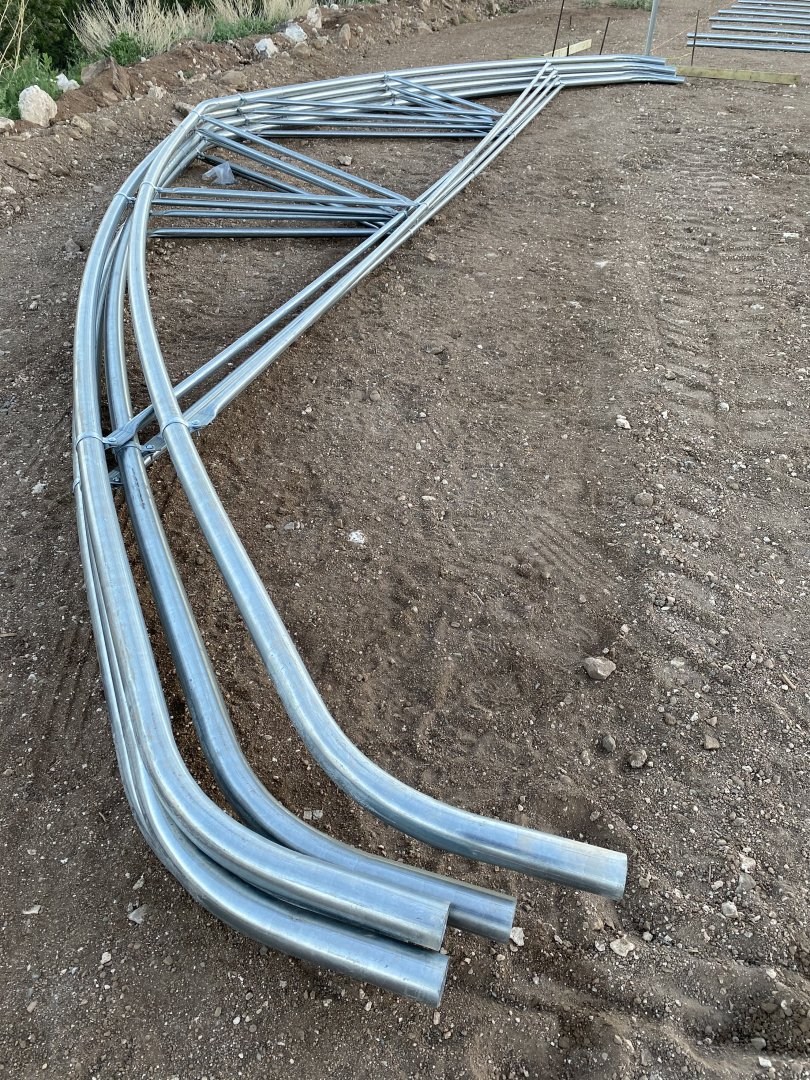 We used a hammer attachment on my buddy's small excavator to pound poles into this pile of rocks we live on.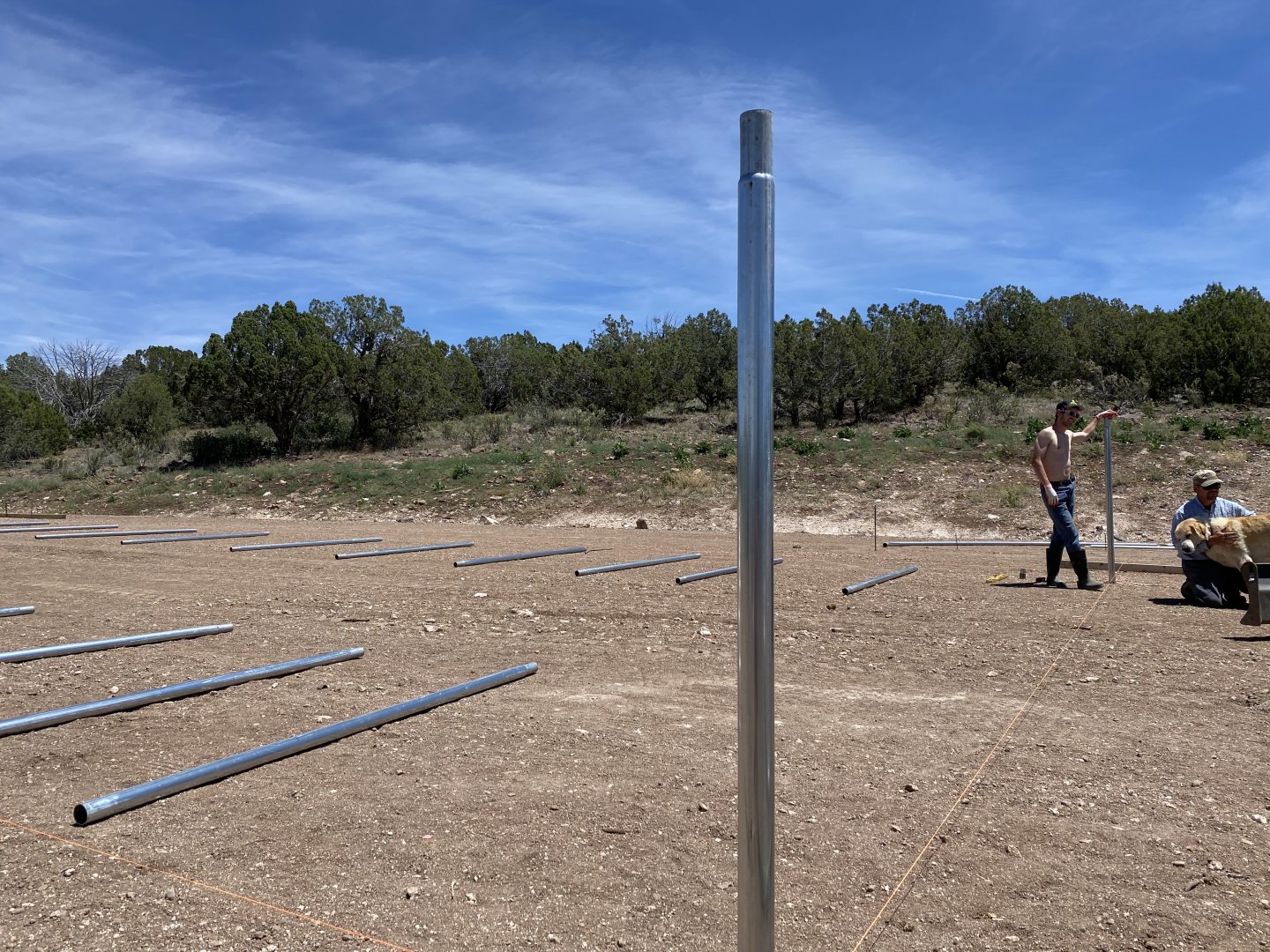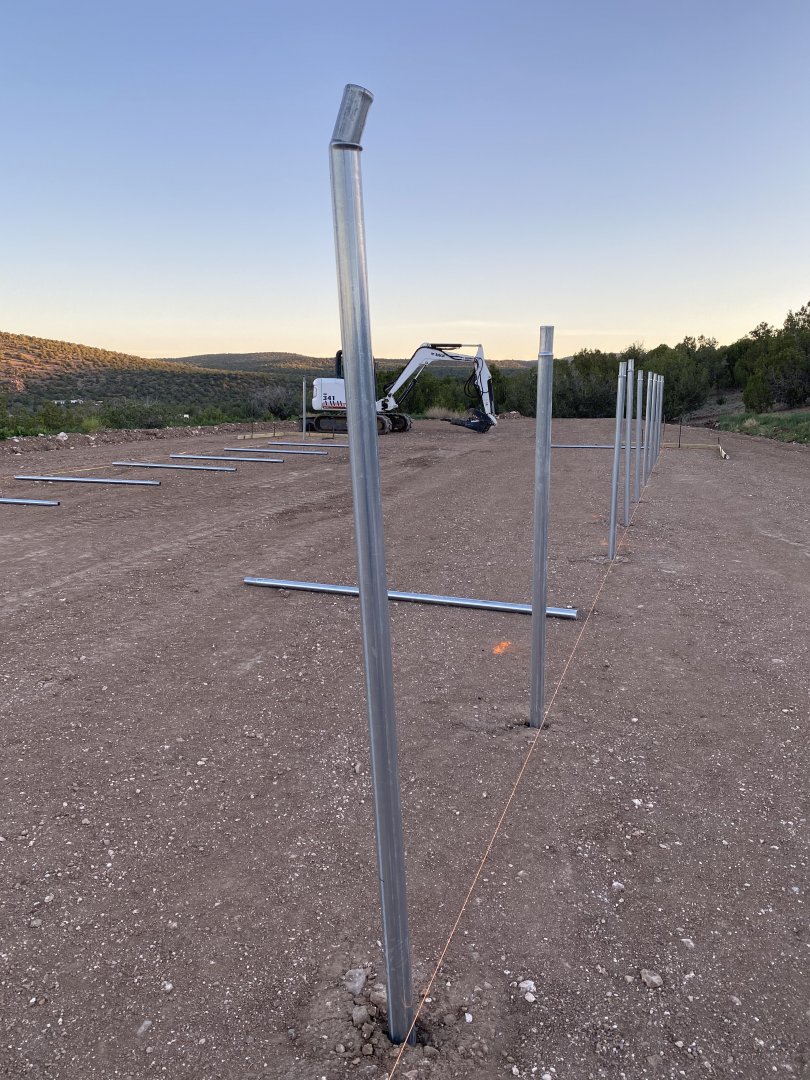 As you can see, it wanted to fight us every step of the way. We resorted to schedule 80 oil pipe to drive on the big boulders. It was slow going but over time we got them all in the ground the required depth and reasonably straight. But man, did we ever ruin some pipe.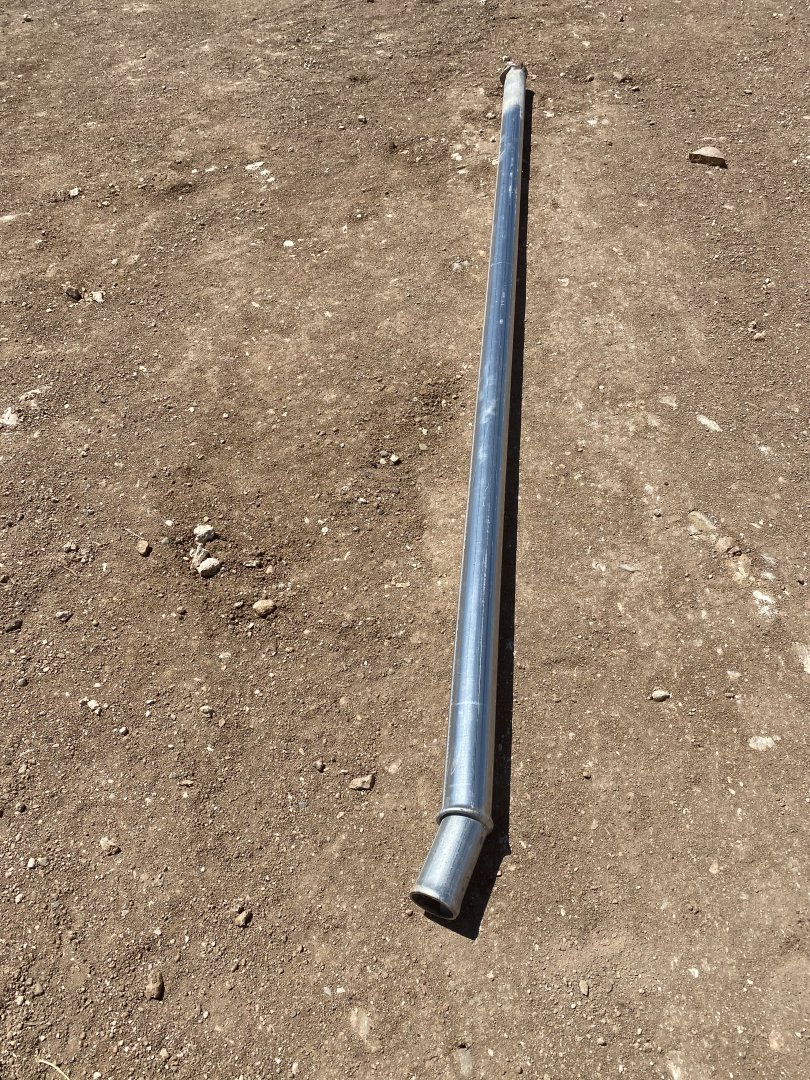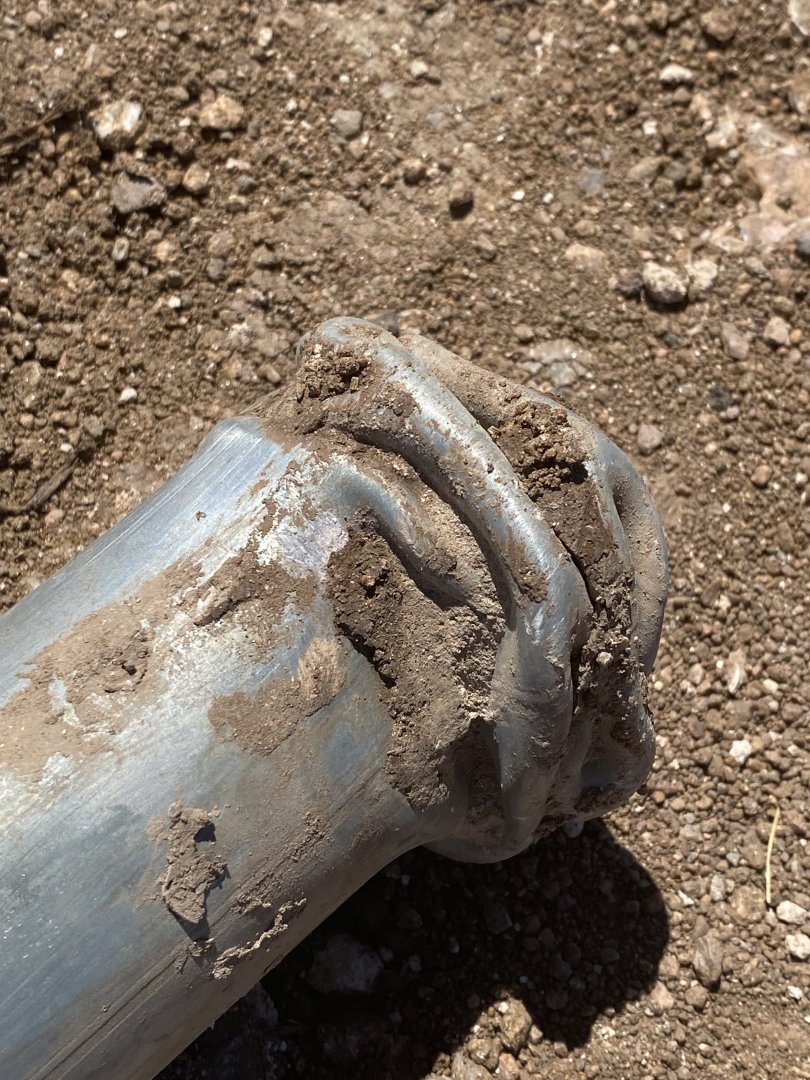 Next up was setting the trusses.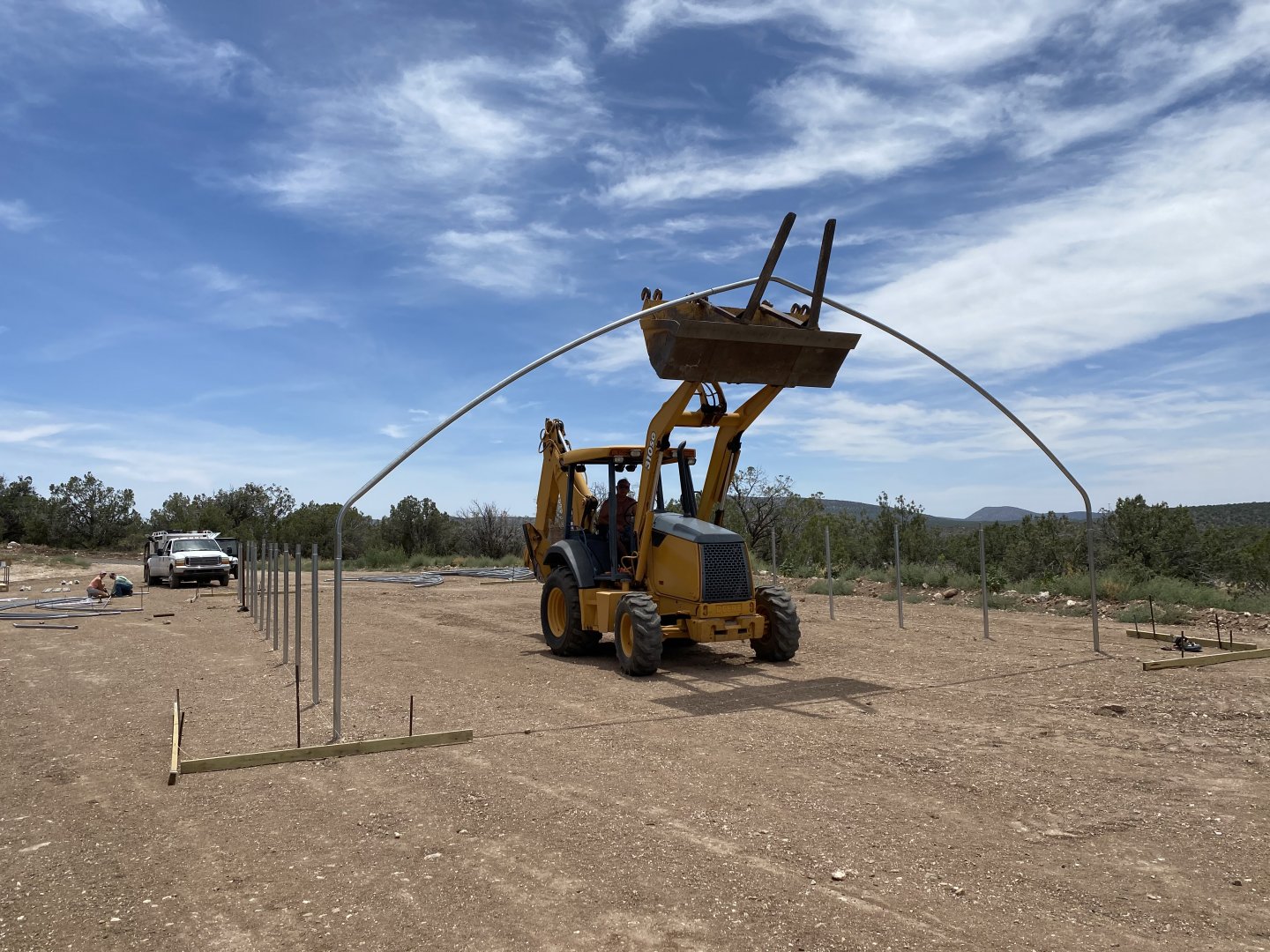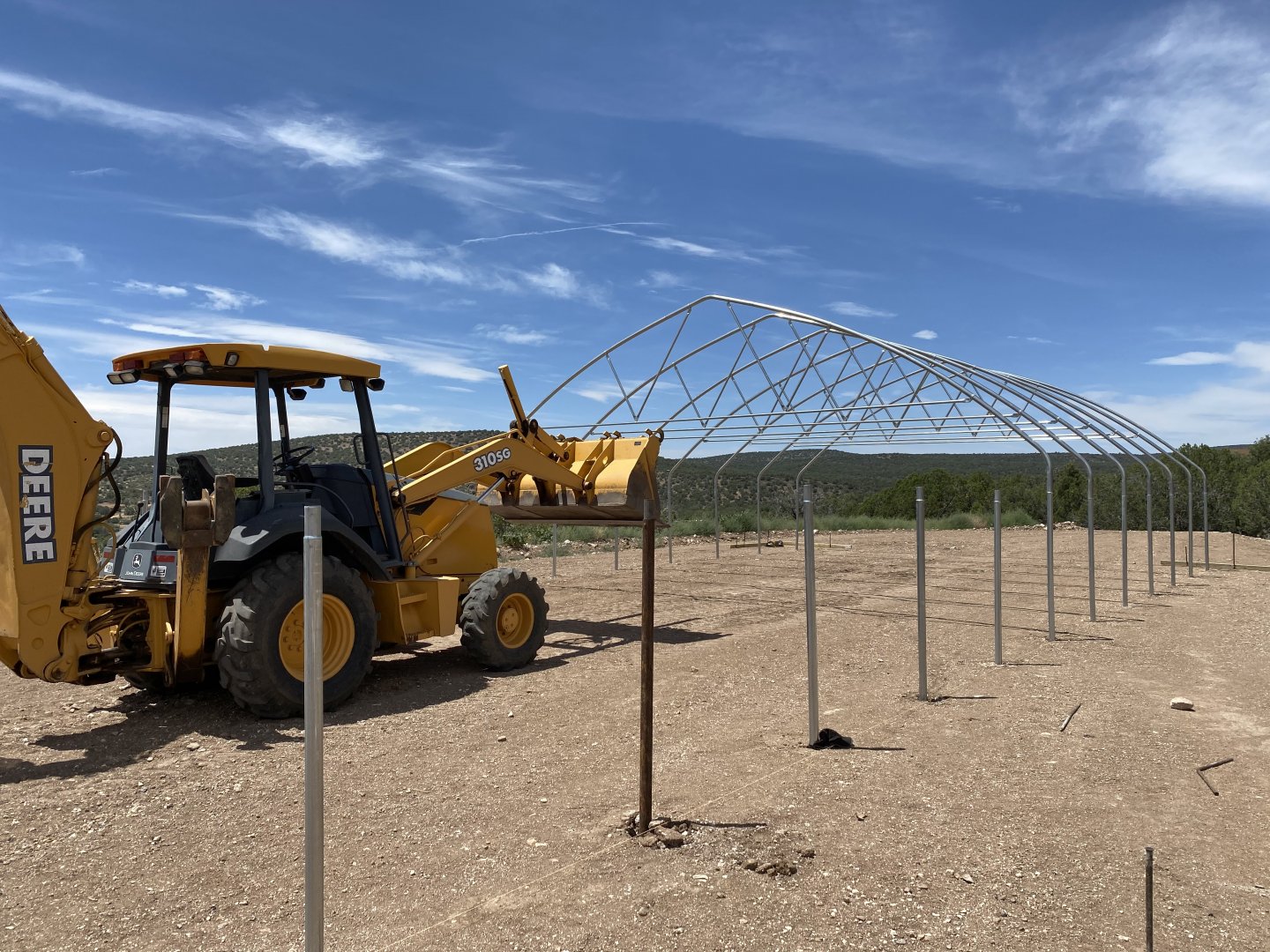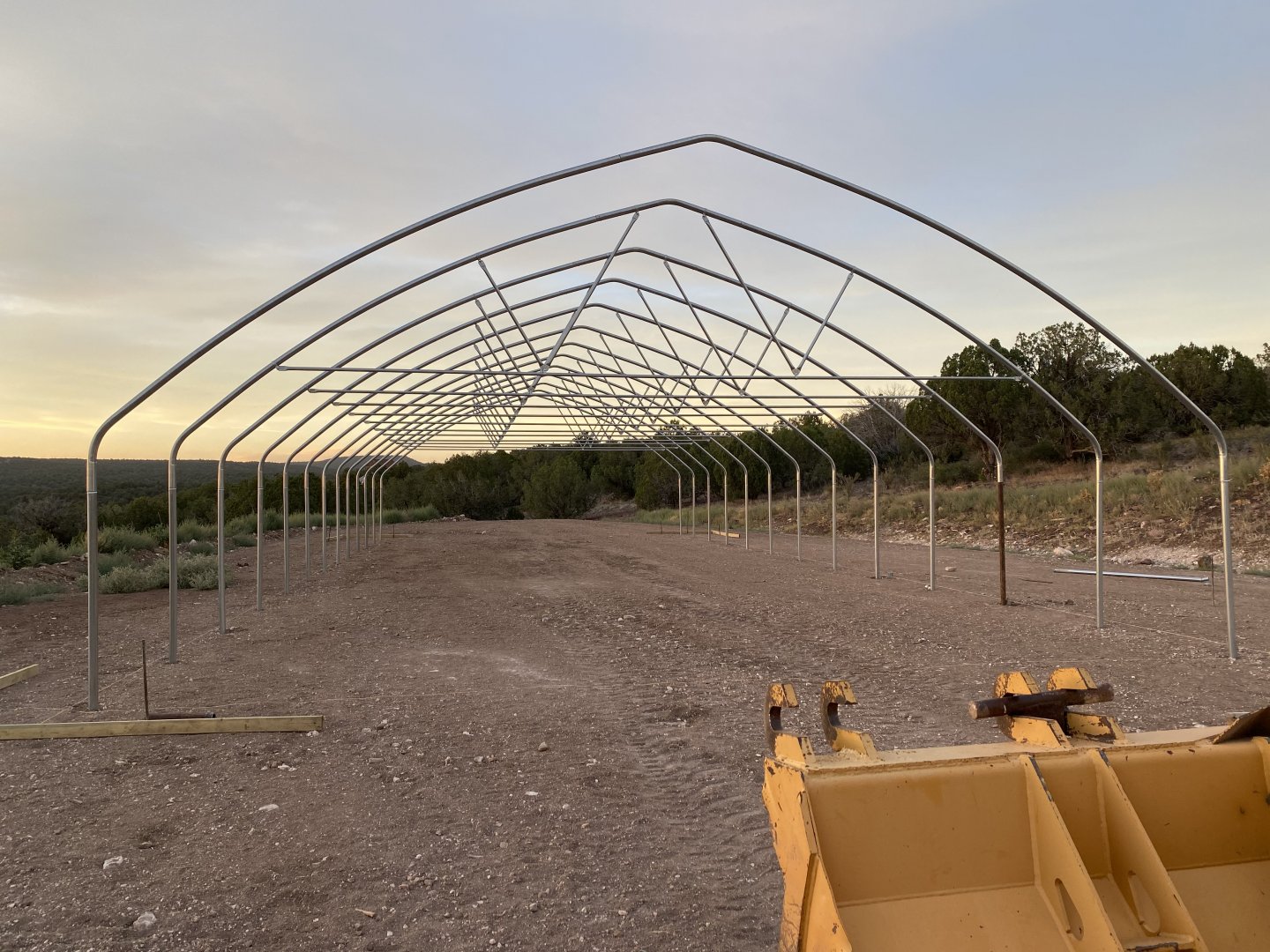 The weekend crew.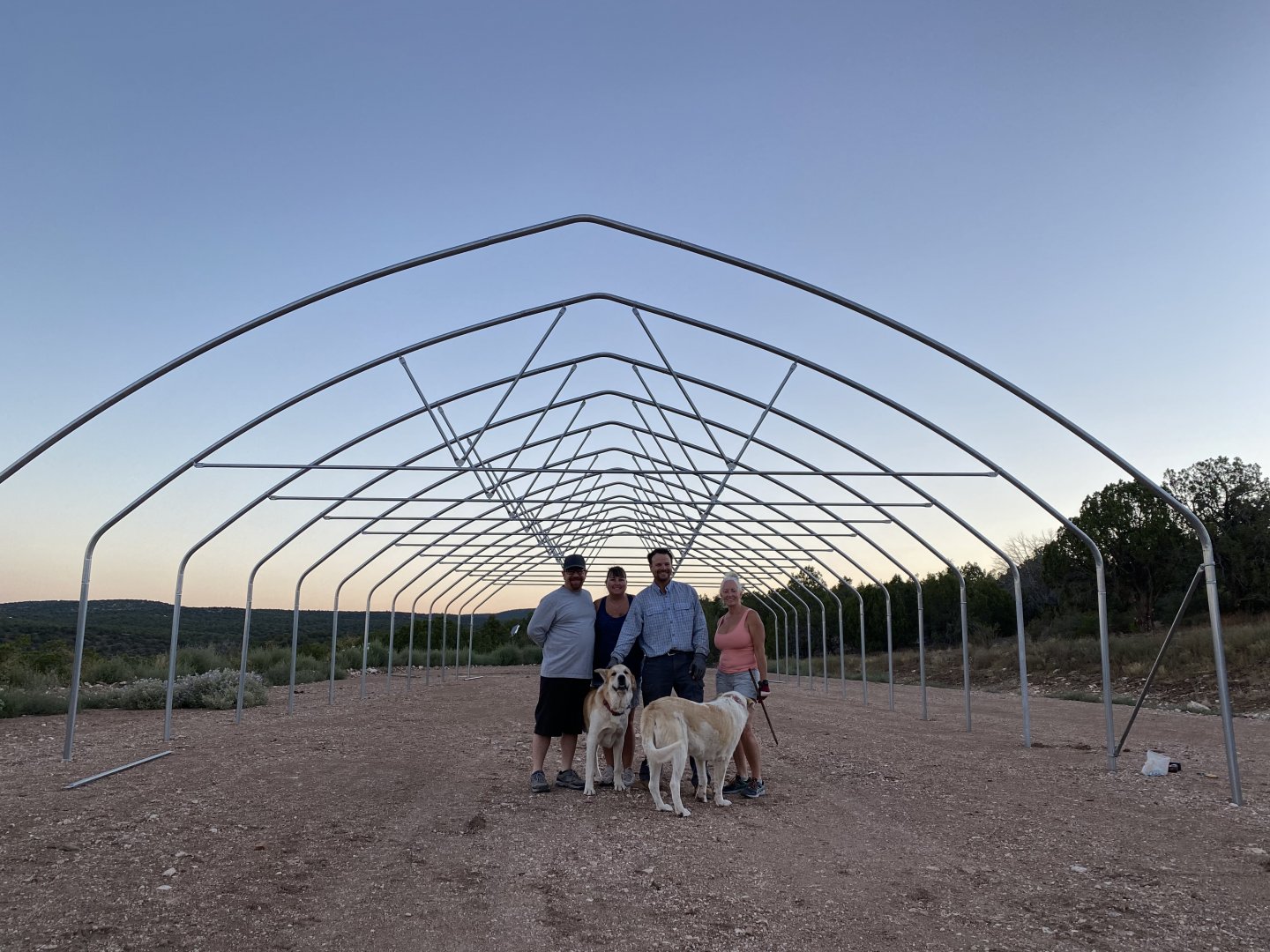 Next up was framing up the sides for the roll up curtains then attaching more roof bracing.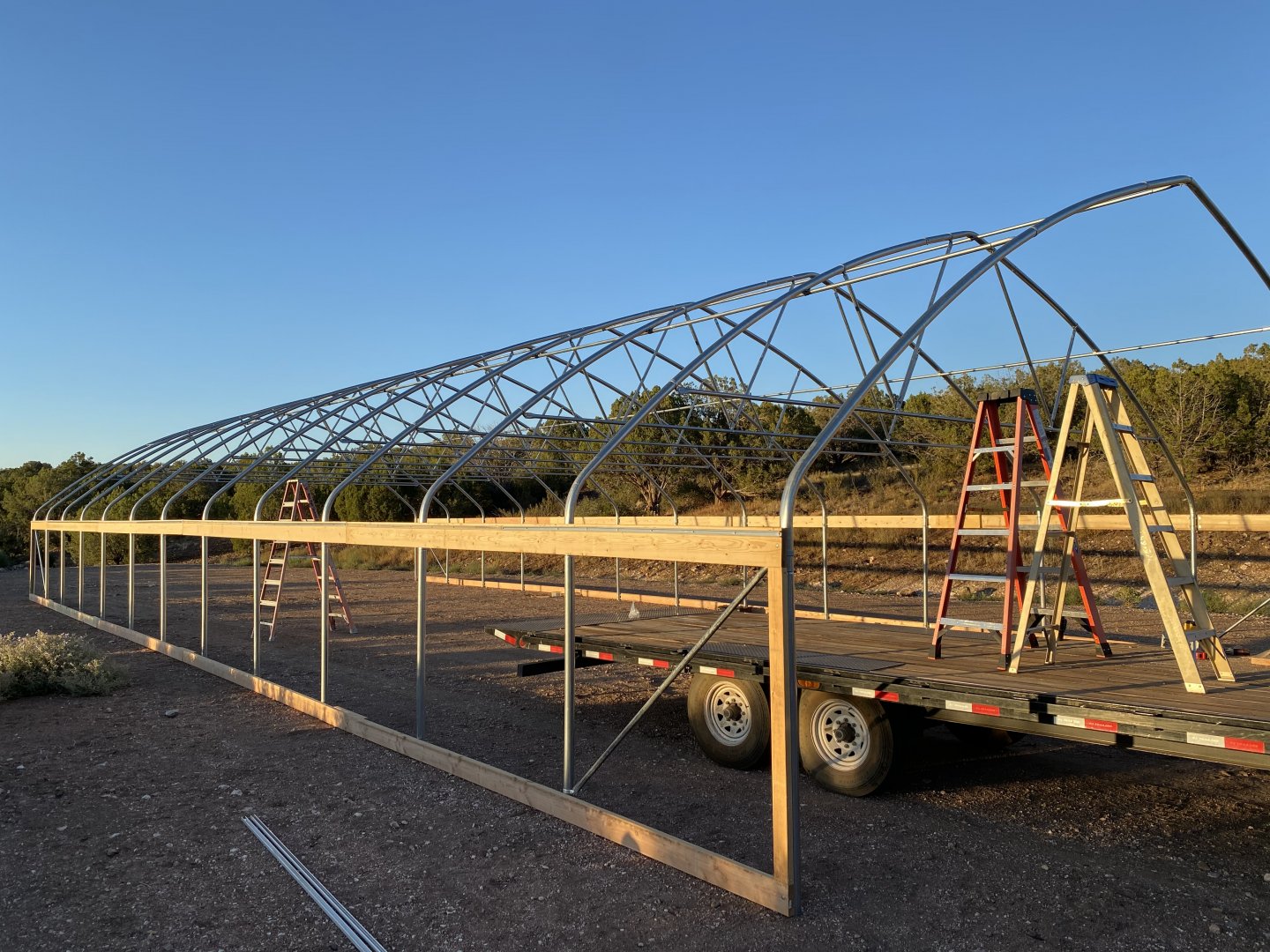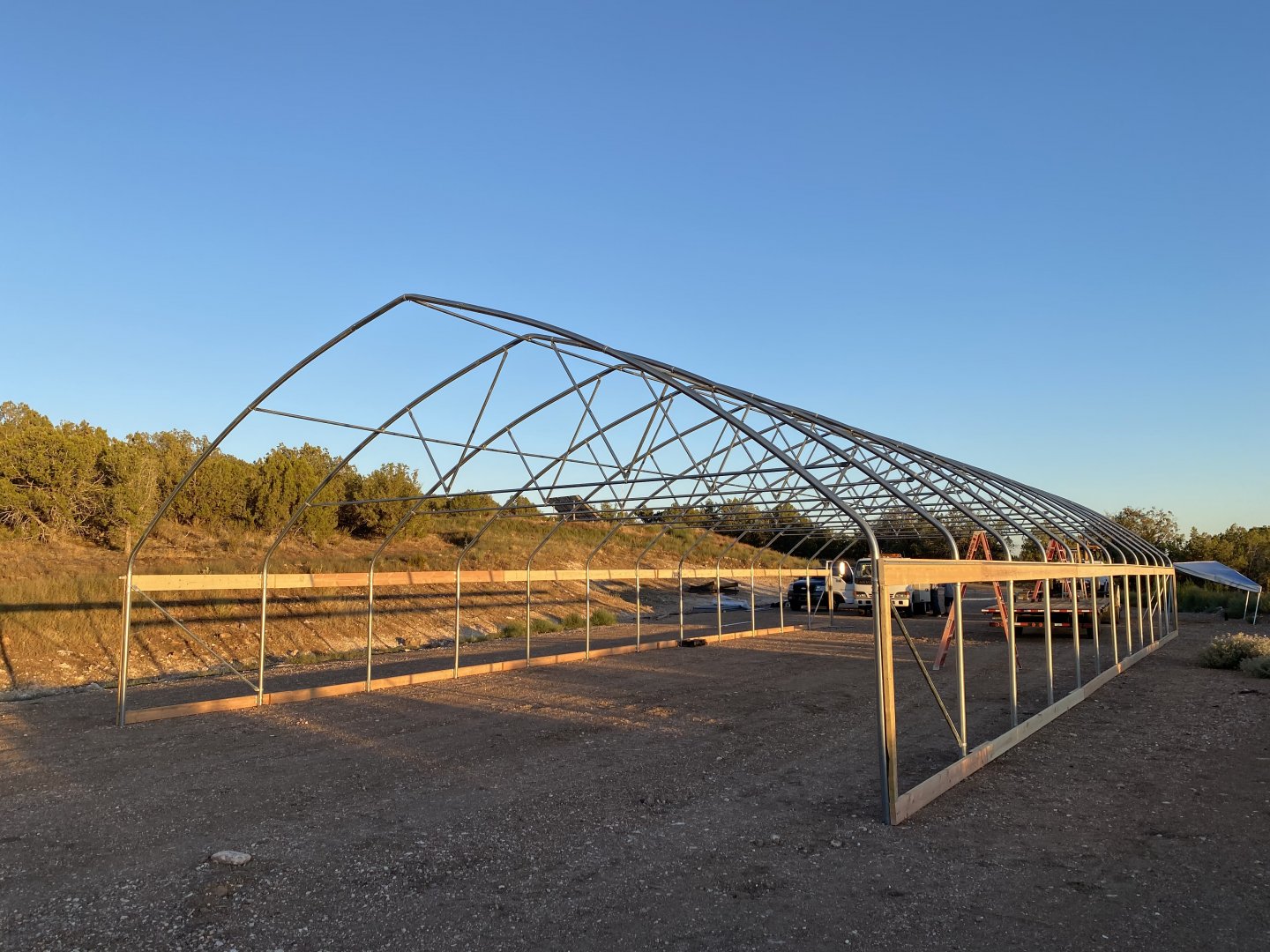 Flight crews out of Nellis AFB in Vegas do flyovers of our area on a regular basis. Amy does what she can keep morals high.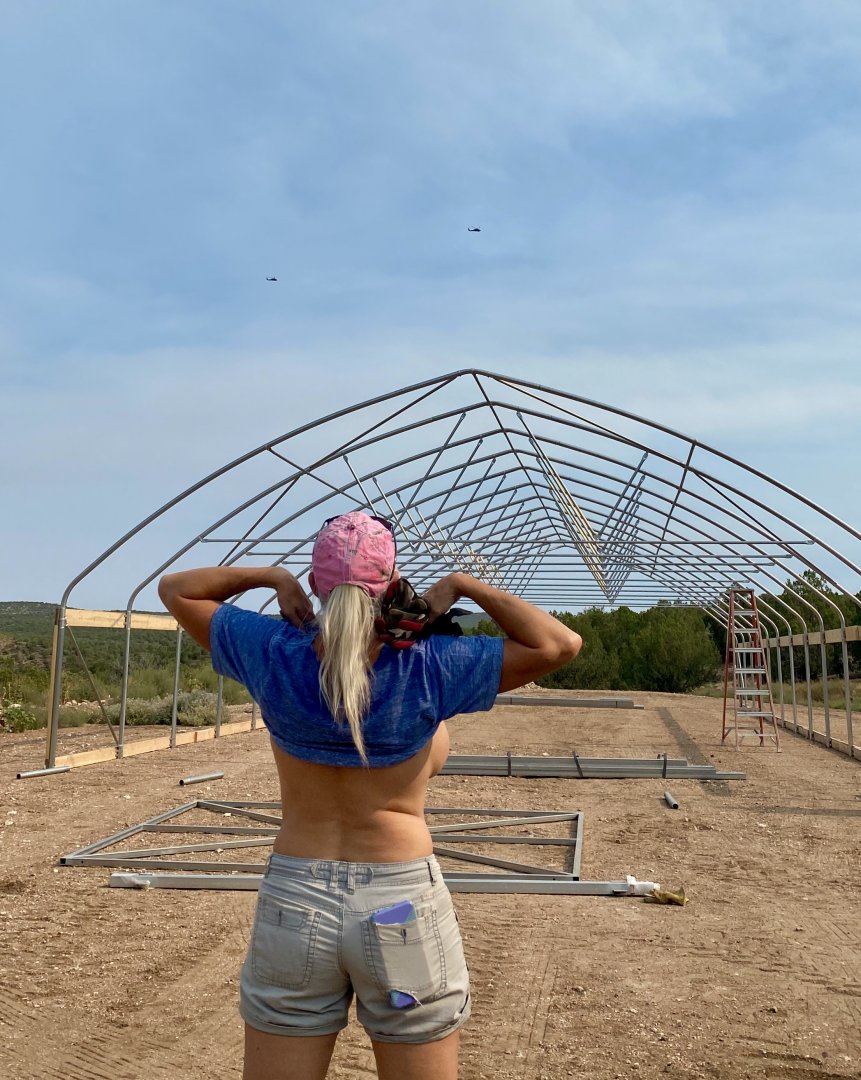 Driving posts for the end walls.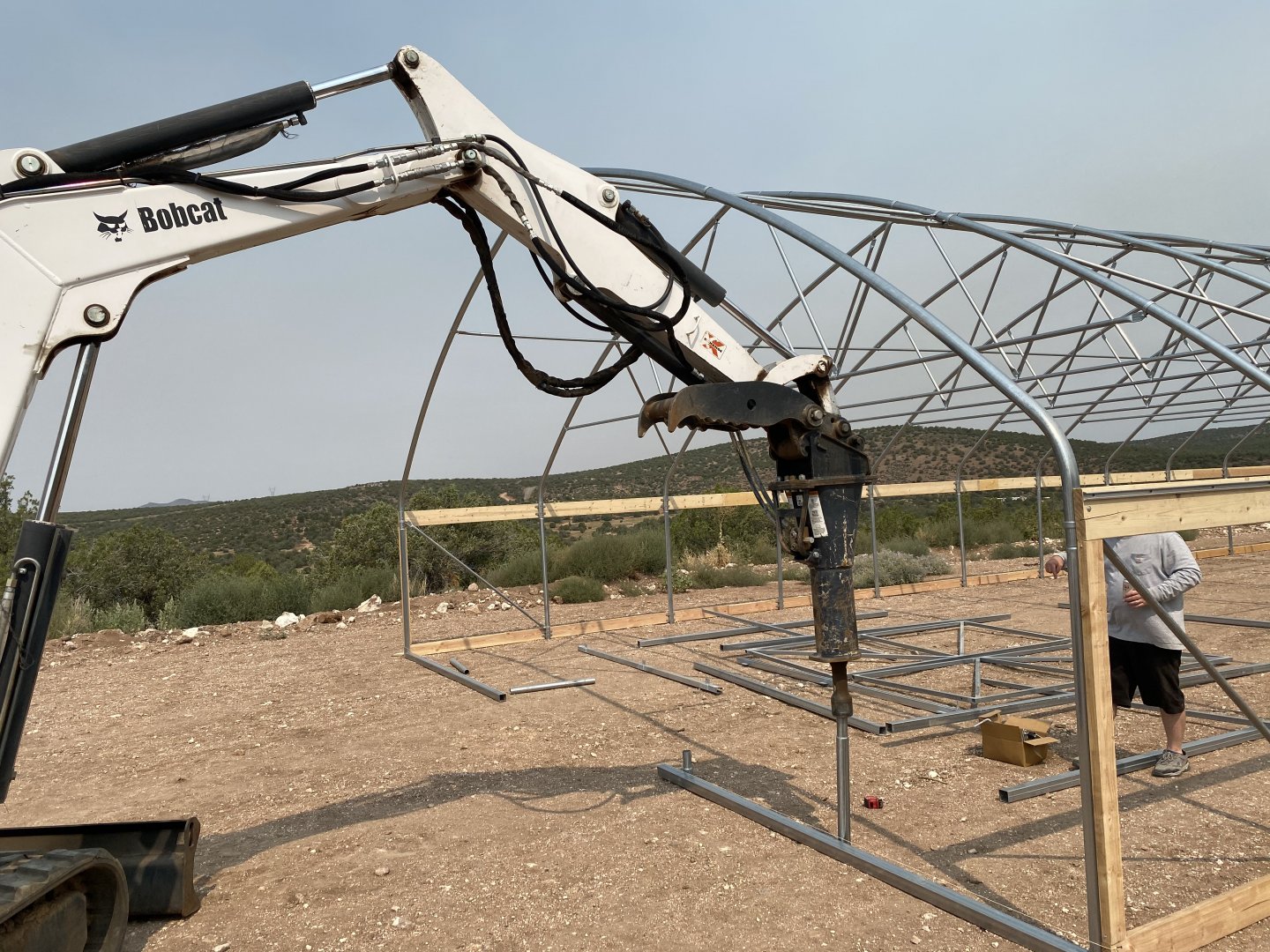 End walls and doors hung.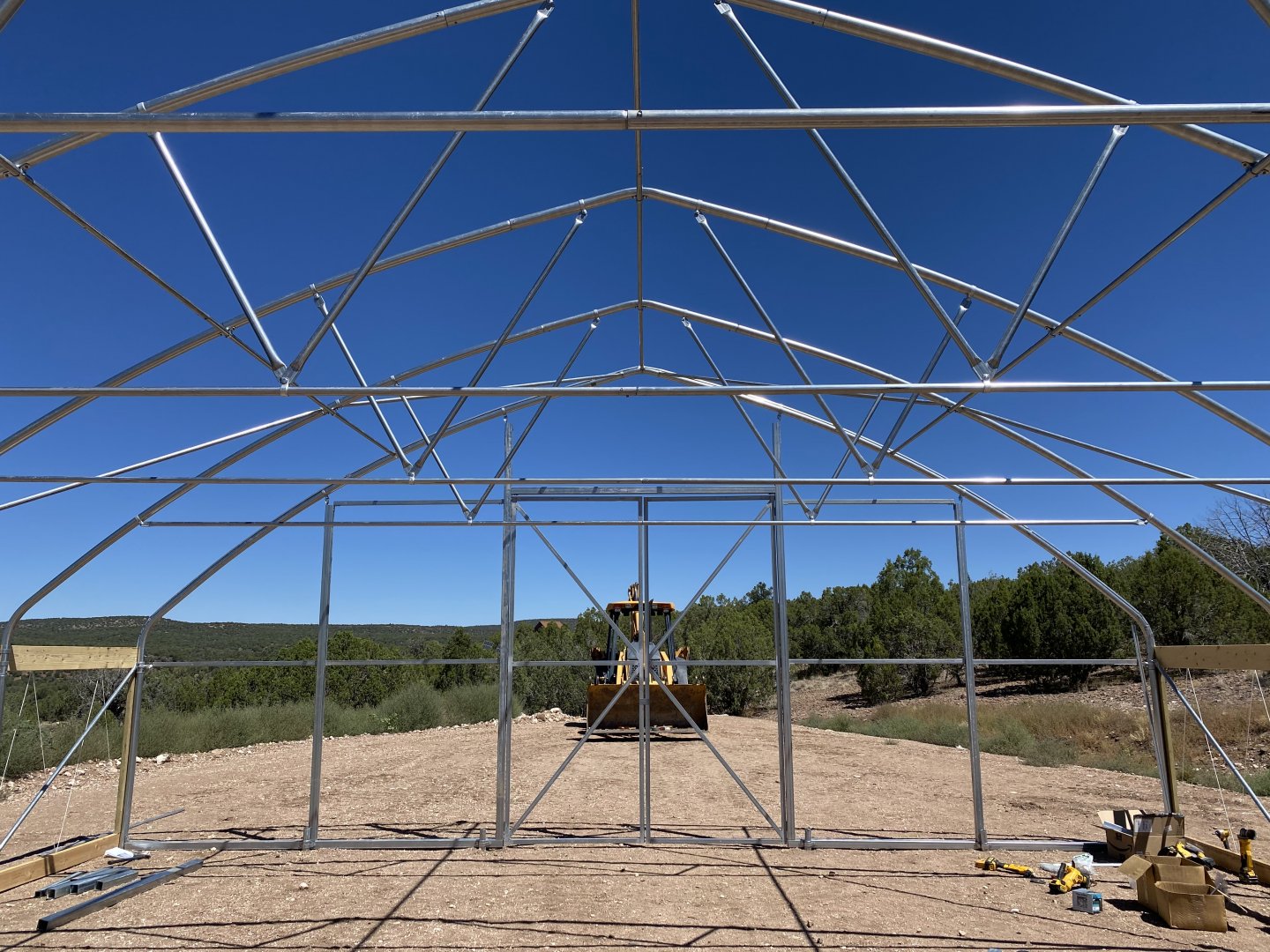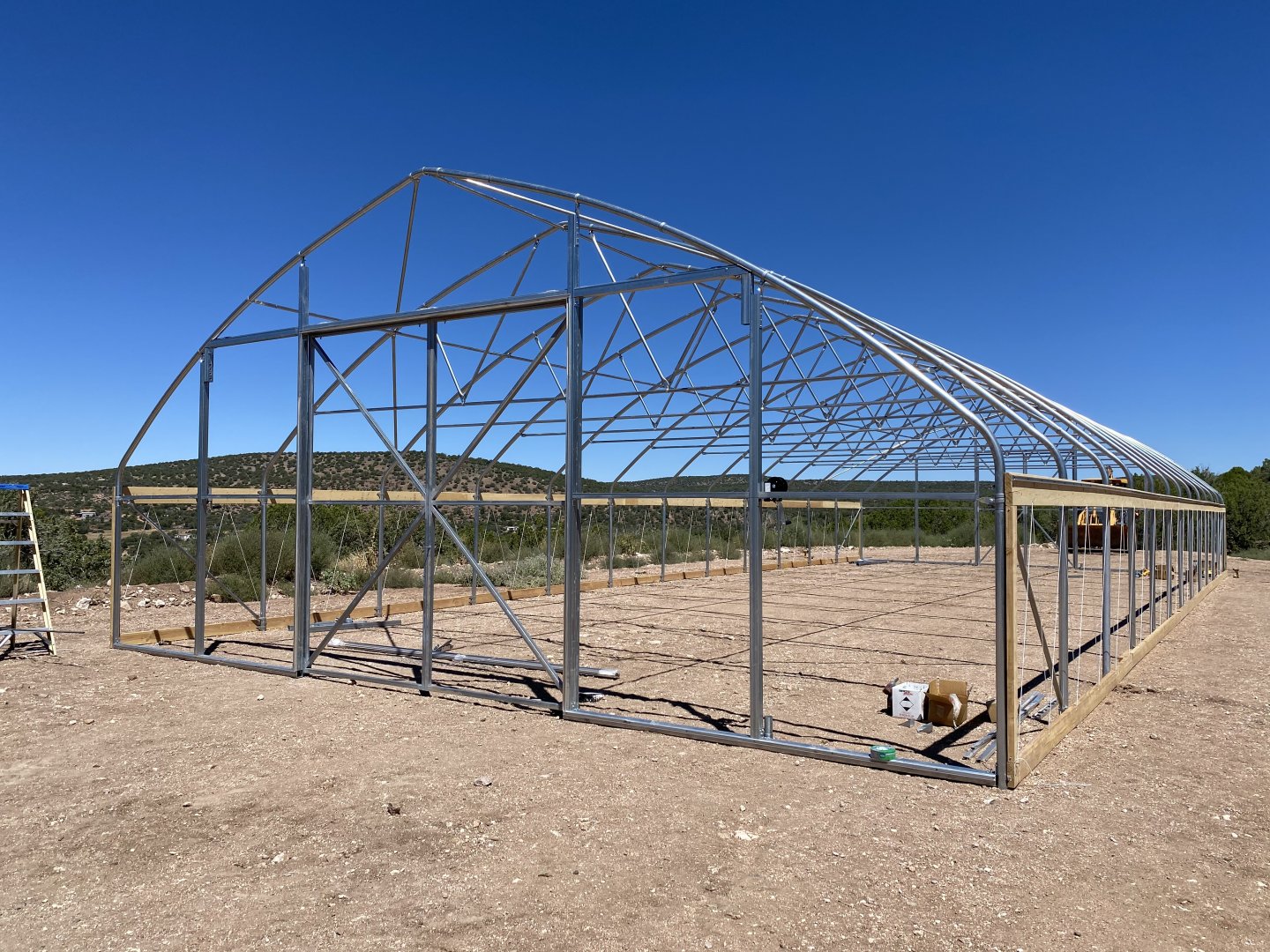 Don't let the succession of pictures fool you. This project took forever. There was so much custom fit and fabrication, I am sparing you the tedious details. We vowed to get the plastic up and stretched in the final weekend. Unfortunately, it was record high temps that nearly killed us all. Doing the finish work inside, under the plastic was brutal. We finished Sunday and here it is Thursday, I'm still a little wounded.
Getting an early start…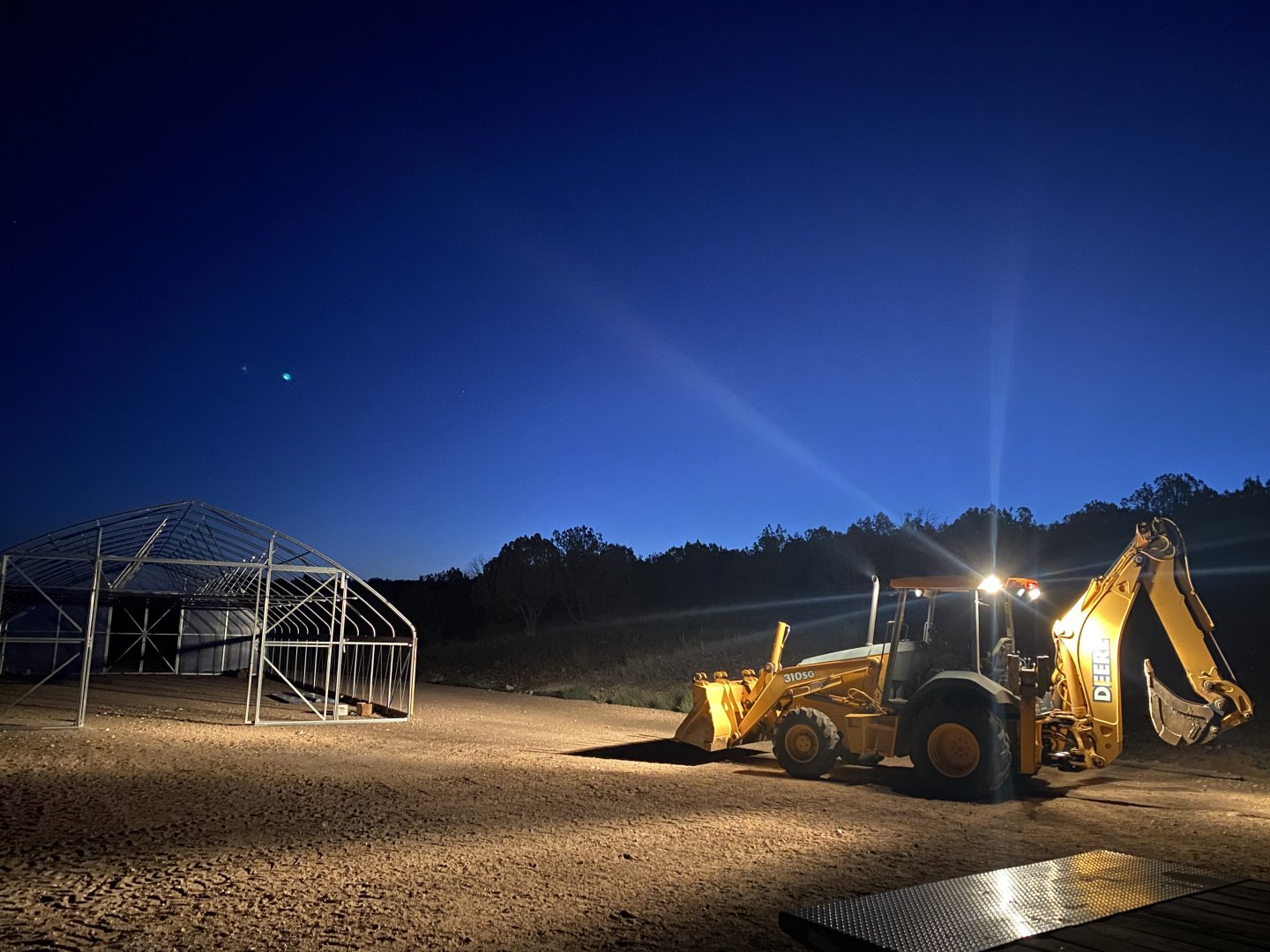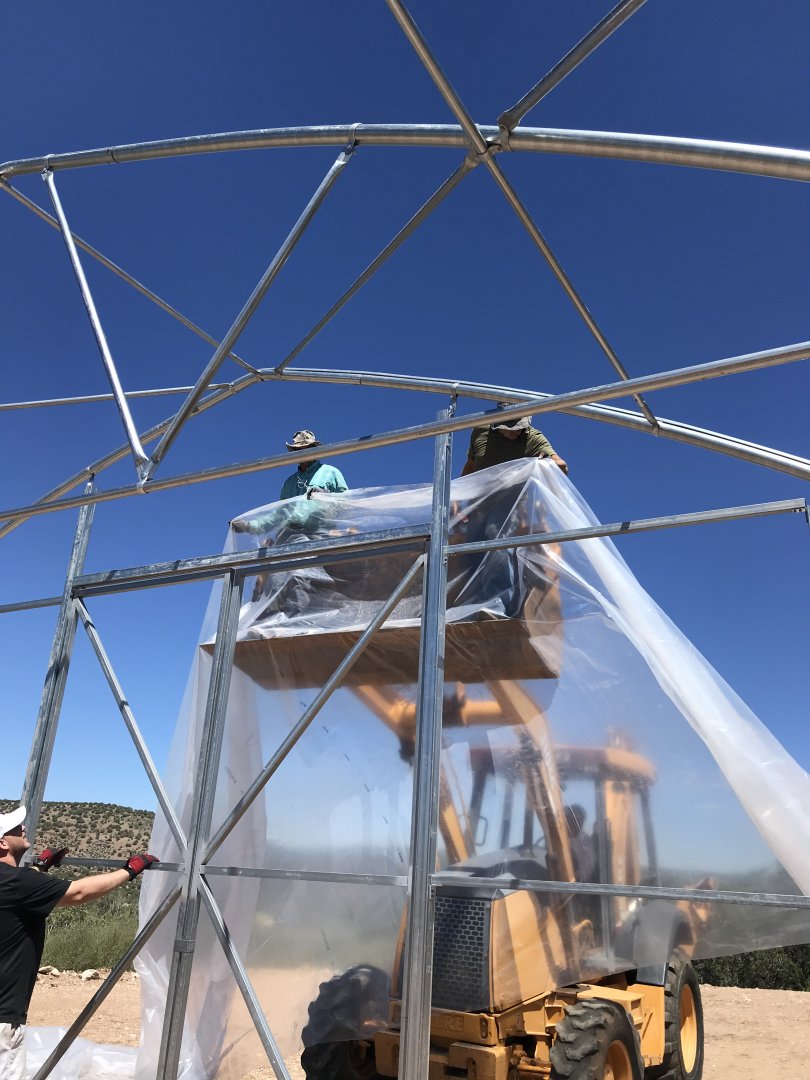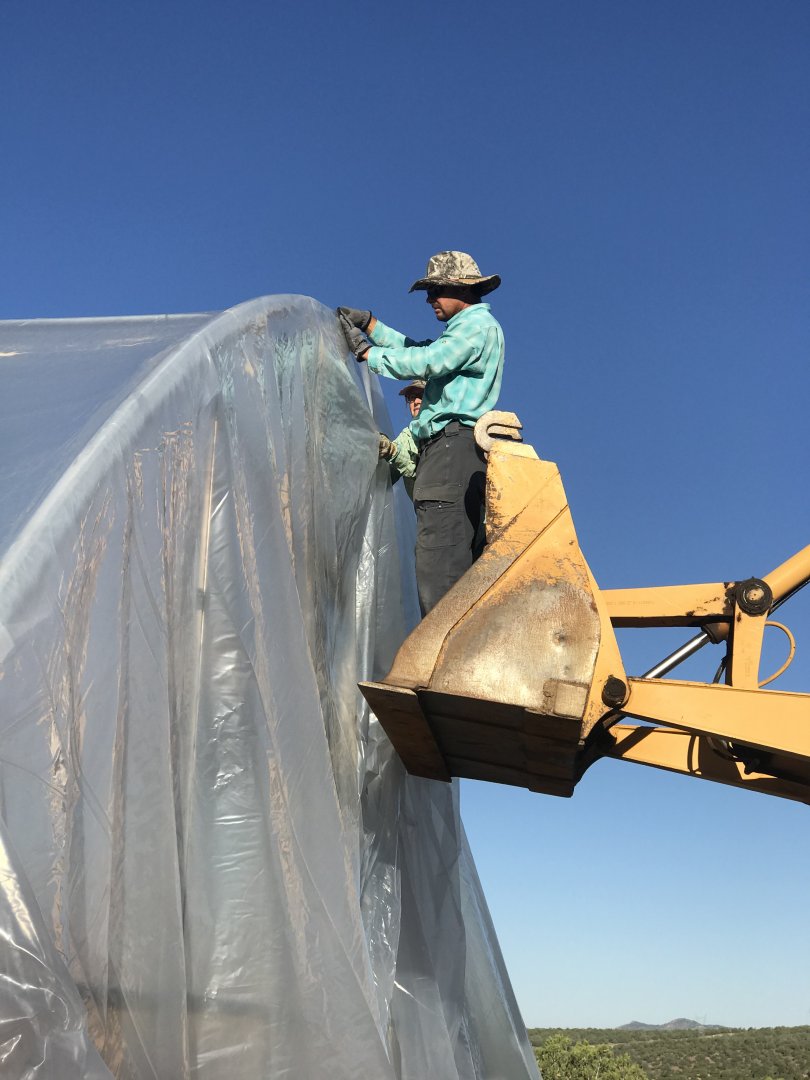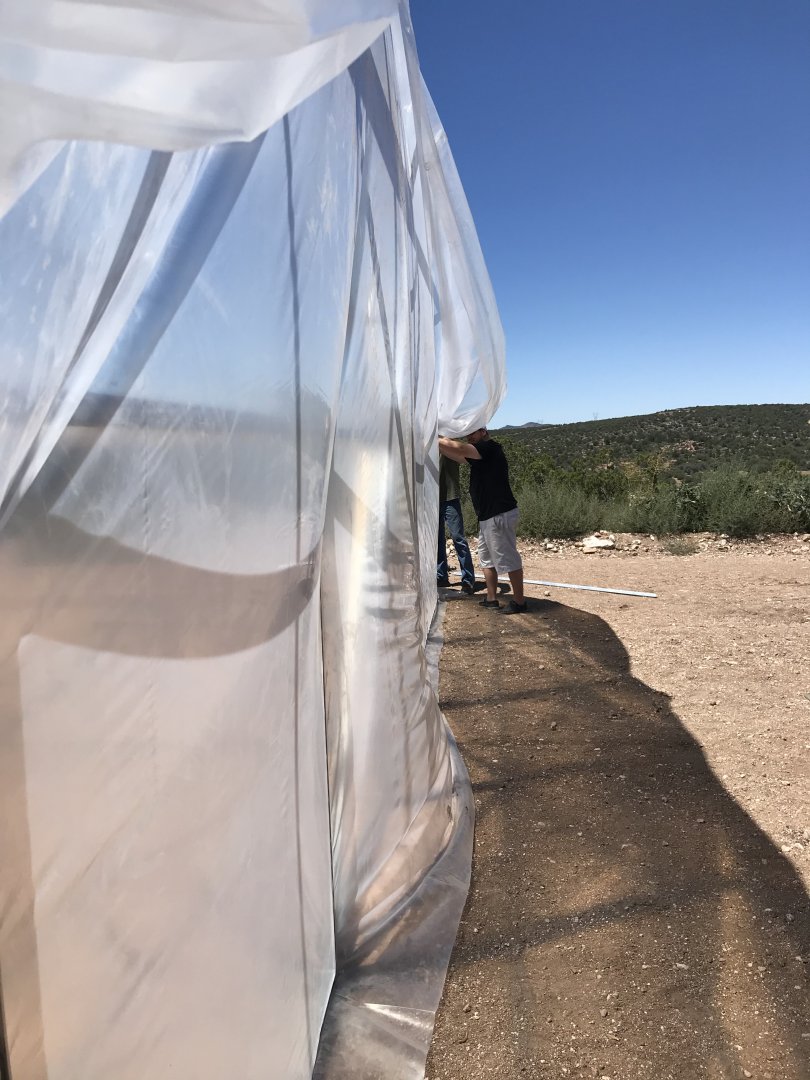 We didn't get a lot of pictures of the plastic going up since it required all of us to pull, stretch and attach it. It's a 6mil, heavy plastic with a 4-year warranty. Once attached to the framework it's pretty stout. We've already had a good monsoon storm this week and it didn't seem to faze it a bit.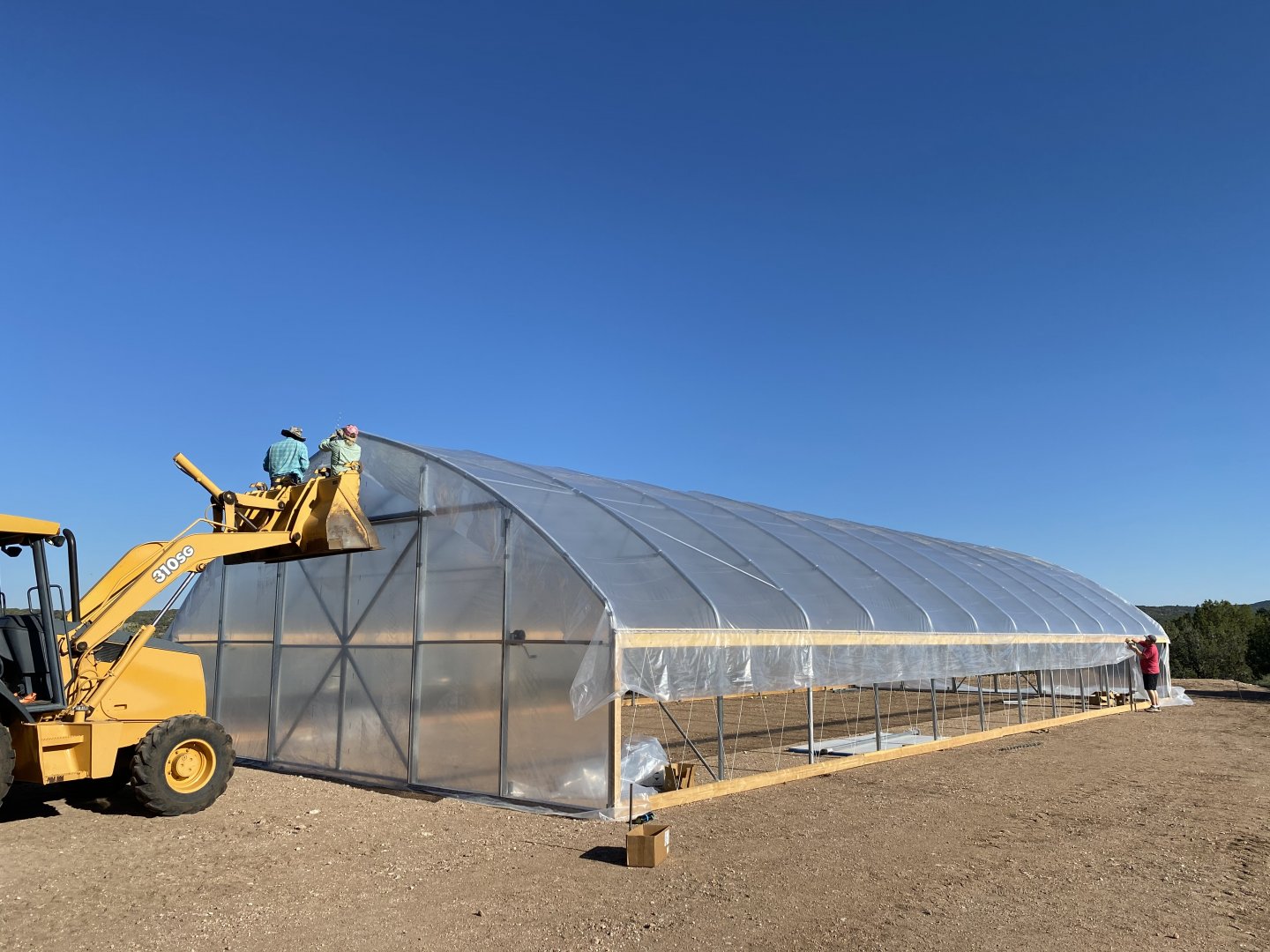 Sidewalls and curtains finished. The entire wall goes up and down with a wire pulley system, one hand crank for each side.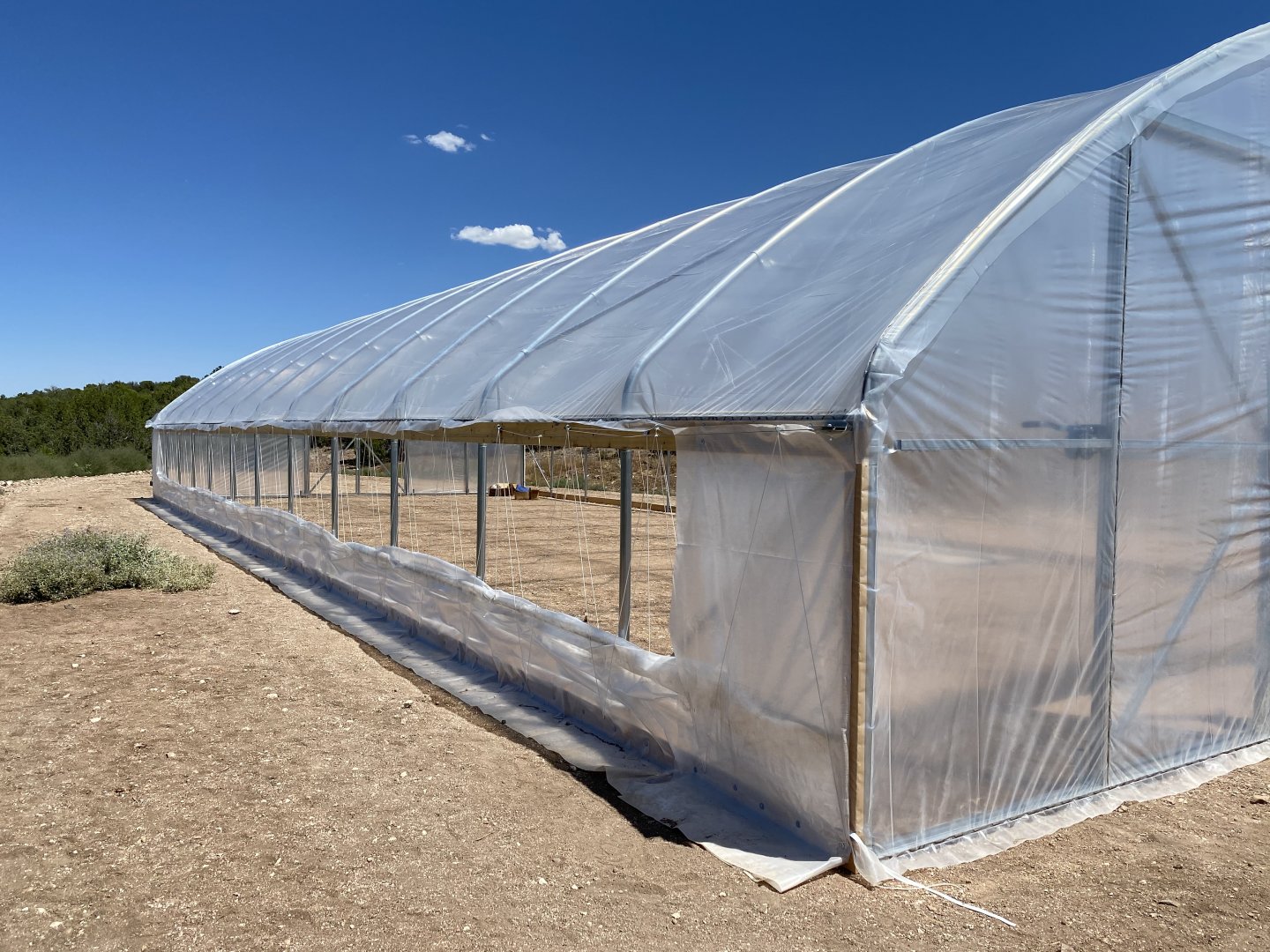 The finished project, all buttoned up.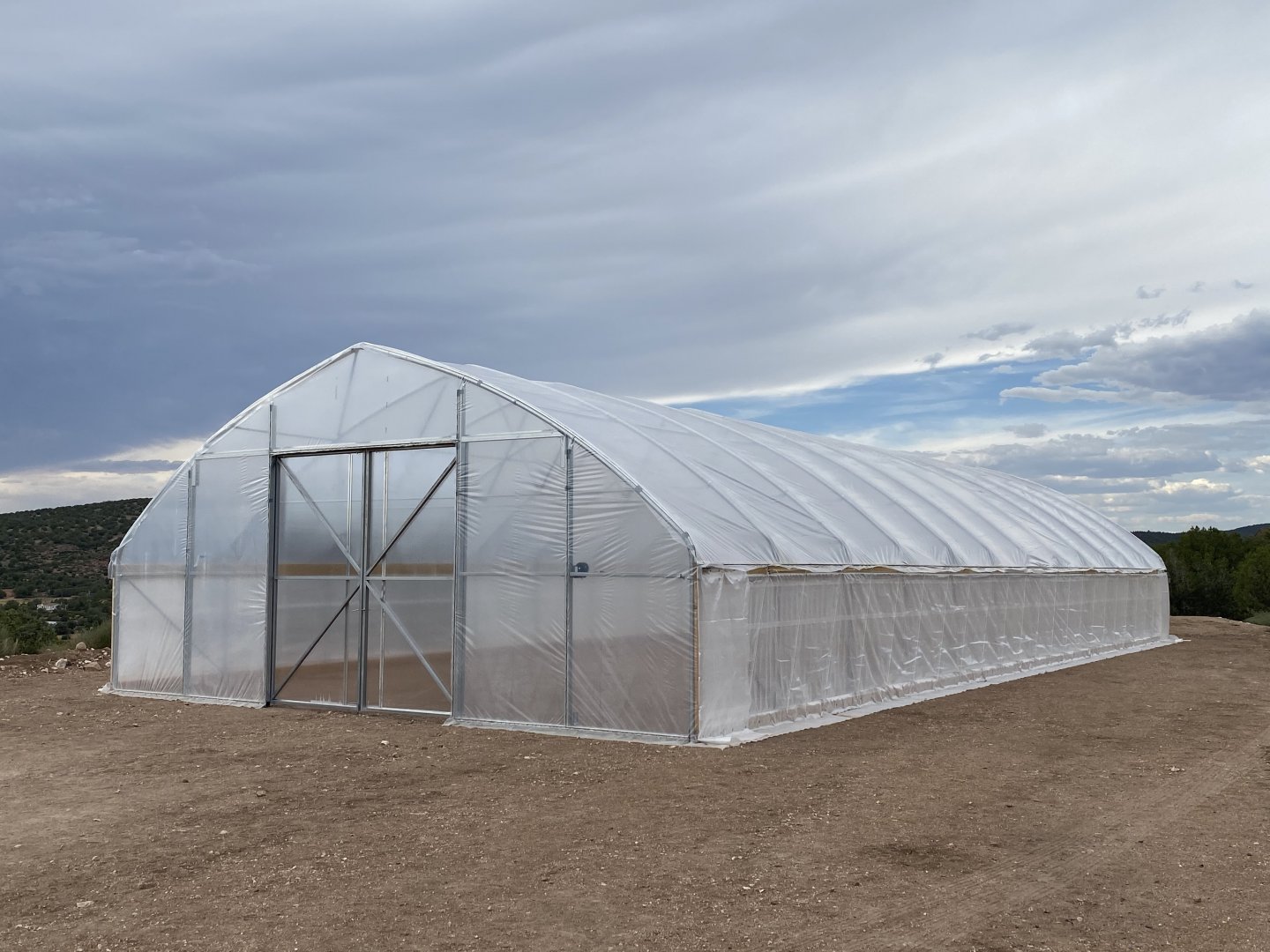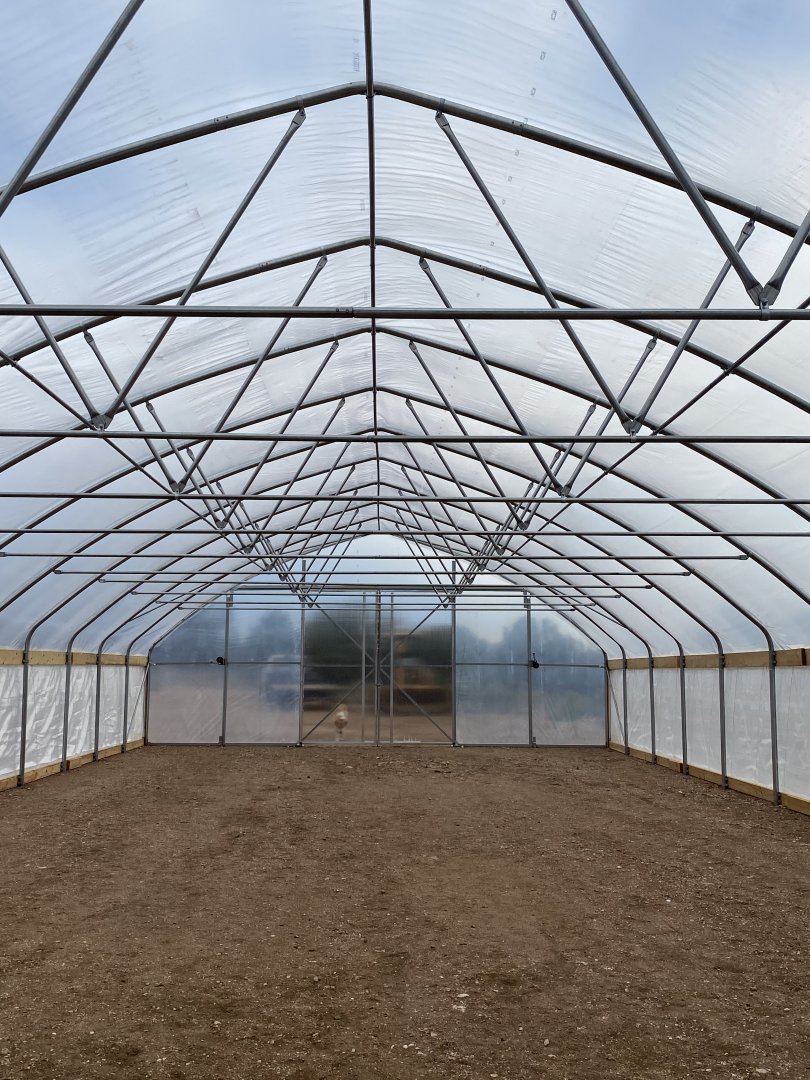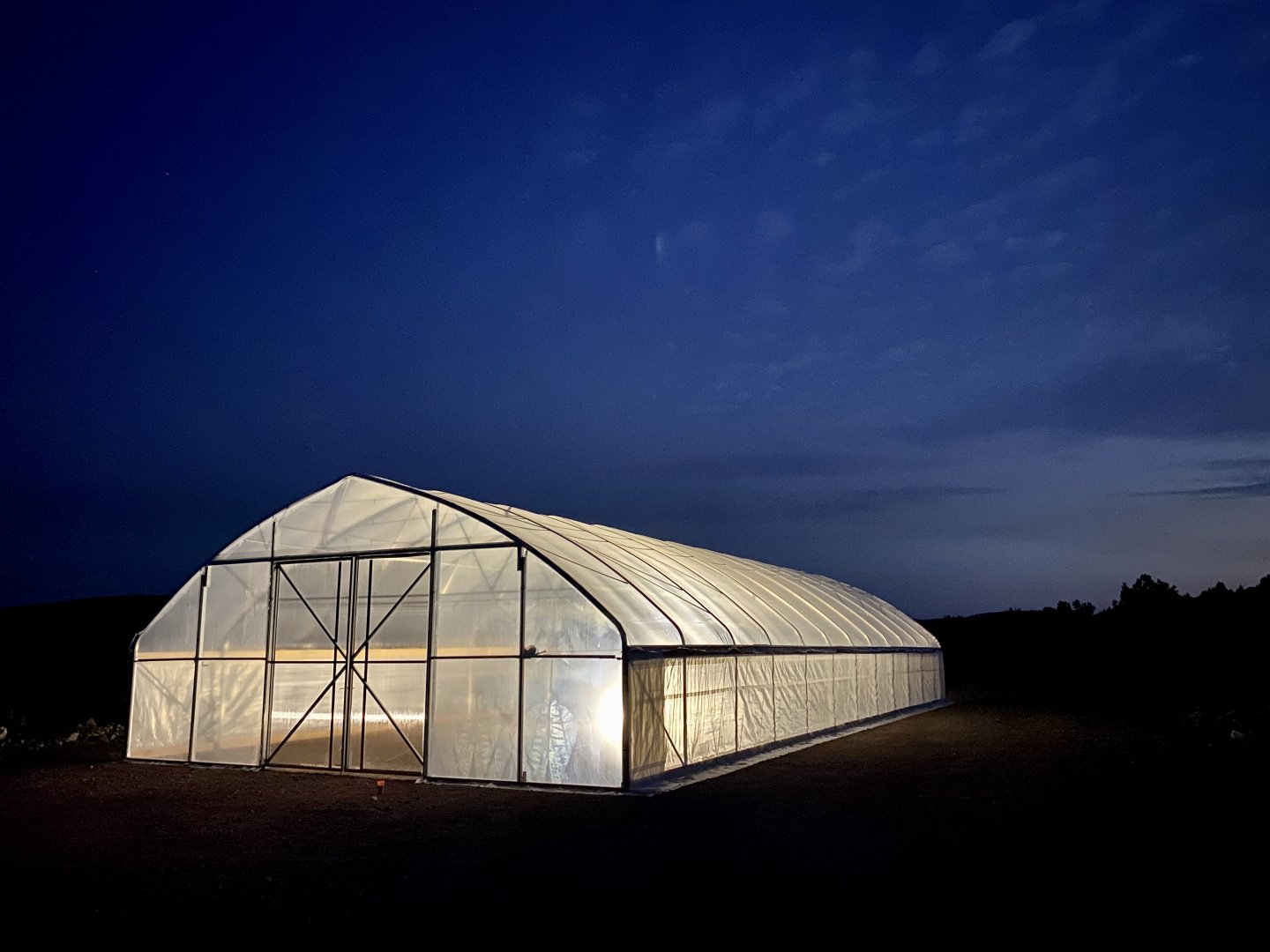 I know, I know…… The weed guys are salivating over this one. I can't tell you how many times I get the question, "You growing the good stuff?". I'm still trying to learn how to grow a decent head of broccoli. Besides, the weed thing puts a target on you at several levels and our whole goal was simple living. I'll be sticking with veggies.